DA 39 A 47 mt
LUNGHEZZA COMPLESSIVA
2.60 mt
PESCAGGIO A PIENO CARICO
Gru A-Frame
Grazie a questa gru completamente nascosta sul ponte, montata a filo e rivestita in teak è possibile movimentare tender fino ad peso massimo di 2500 kg.
MD exterior area 115 m²
Questa vasta area è ulteriormente ampliabile grazie alle fianchette abbattibili che permettono di collegare il salone principale al mare, e permettono un infinito numero di allestimenti.
DISCOVER THE YACHT
La gamma Flexplorer offre agli Armatori e agli ospiti particolare privacy. Gli spazi esterni sono davvero degni di nota: un ampio pozzetto, una terrazza a poppa dell'Upper Deck ed un Sun Deck panoramico con spa e prendisole rendono unica l'esperienza della navigazione.
YACHT COMPARATIVE
DISCOVER THE FLEET
Cantiere delle Marche ha condotto il segmento yacht a una nuova dimensione ampliando i gli orizzonti e le aspettative degli yacht explorer. Grazie alle imbarcazioni CdM finalmente sarai tu a decidere quali rotte esplorare, non i limiti del tuo yacht.
DISCOVER MORE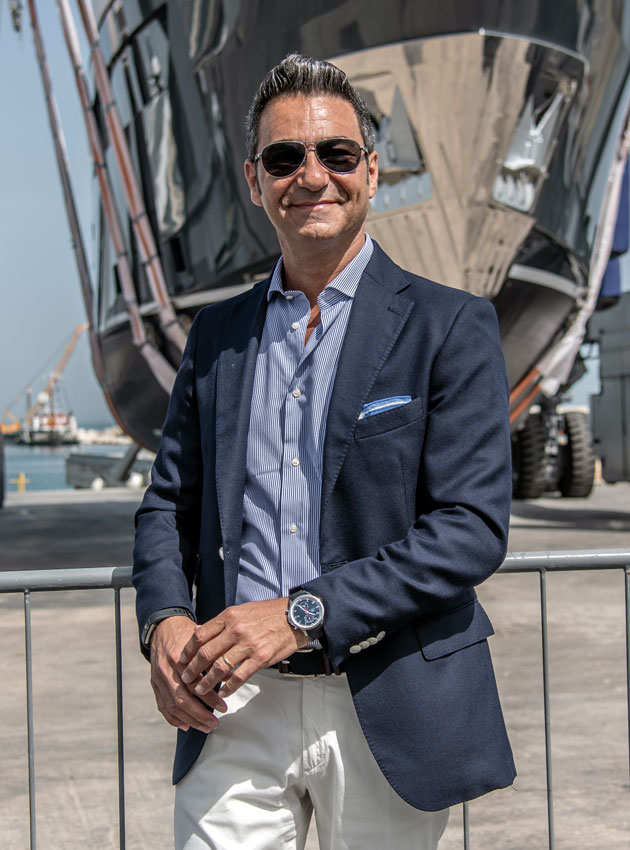 ENNIO
CECCHINI
CEO
We are sure she will be a game-changer!
En­nio Cec­chi­ni, Can­tie­re del­le Mar­che's CEO, talks about the yard's new pro­jec­ts, na­me­ly the ama­zing Flex­plo­rer.
Wha­t's in sto­re for Can­tie­re del­le Mar­che's fu­tu­re?
Can­tie­re del­le Mar­che is mo­ving for­ward with new li­nes and one-off pro­jec­ts among whi­ch the Flex­plo­rer line re­pre­sen­ts in­deed a hi­ghlight as well as a tur­ning point. I am sure this mo­del will be a fea­ther in the cap for Can­tie­re del­le Mar­che!
What va­lues and cha­rac­te­ri­stics de­fi­ne bet­ter an ex­plo­rer built by Can­tie­re del­le Mar­che no­wa­days?
The em­bra­ce of both de­si­gn and tech­no­lo­gi­cal ad­van­ce­men­ts and dee­ply held com­mit­ment to move for­ward de­fi­ne what a Can­tie­re del­le Mar­che's ex­plo­rer ves­sel is to­day. The Flex­plo­rer is a te­sta­ment to the­se va­lues: a new class of ya­cht that fu­ses su­pe­rya­cht stan­dards of spa­ce and de­si­gn with rug­ged, go-any­whe­re ca­pa­bi­li­ties – all in a more fle­xi­ble pac­ka­ge. It is in­di­ca­ti­ve of a core streng­th of Can­tie­re del­le Mar­che, whi­ch in­tro­du­ces in­no­va­ti­ve mo­dels and tech­no­lo­gies into the mar­ket whi­le being able to pre­ser­ve its vi­sion and mis­sion: buil­ding strong and re­lia­ble ex­plo­rer ves­sels.
Would you plea­se point out con­cep­ts and fea­tu­res that make Flex­plo­rer stand out from the cro­wd?
Among Flex­plo­re­r's ge­nui­ne­ly uni­que aspec­ts it is wor­th men­tio­ning the fold-do­wn bul­warks that en­lar­ge the deck spa­ce astern crea­ting a huge ter­ra­ce and an A-fra­me cra­ne that is per­fec­tly en­com­pas­sed in the dec­k's floo­ring. The A-fra­me cra­ne is a re­mar­ka­ble pie­ce of en­gi­nee­ring pur­po­se­ly de­ve­lo­ped by Can­tie­re del­le Mar­che's to pro­vi­de the ya­cht with a po­wer­ful cra­ne to laun­ch a haul a ten­der of up to 2.5t wi­thout in­ter­fe­ring with full use of deck spa­ce. When the cra­ne is not is use, it li­te­ral­ly di­sap­pears into the dec­k's floo­ring be­co­ming a part of it. The smoo­th teak sur­fa­ce, once the ten­der is in the wa­ter, turns into a lar­ge and com­for­ta­ble area for all guests en­joy re­lax un­der the sun: 115 squa­re me­tres of loun­ging and sun­ba­thing area equip­ped with so­fas, ta­bles, sun­beds, sha­ded – when and whe­re ne­ces­sa­ry - by sty­lish bea­ch um­brel­las. It goes wi­thout say­ing that the A-fra­me cra­ne also al­lo­ws much sa­fer loa­ding and of­floa­ding ope­ra­tions as well as it eli­mi­na­tes any in­cli­ning is­sue. Ano­ther ou­tstan­ding fea­tu­re are the fold-do­wn bul­warks on both si­des of the coc­k­pit. When fol­ded down they sit flush with the teak floo­ring and ex­tend out the coc­k­pit sur­fa­ce of­fe­ring unin­ter­rup­ted views. It is not just a mat­ter of squa­re me­tres ad­ded to an al­rea­dy lar­ge area, it is the sen­se of being in full con­tact with the sea and the sur­roun­ding land­sca­pe that real­ly adds and of­fers an inef­fa­ble sen­se of free­dom.
CDM EXPERIENCE
CdM esplo­ra il mon­do del mare e del­la na­vi­ga­zio­ne. Vol­ti, pen­sie­ri e vi­sio­ni di un'e­vo­lu­zio­ne di­na­mi­ca, che ri­flet­te for­za e chia­rez­za, ten­sio­ne ed equi­li­bri. CdM Ex­pe­rien­ce è il ma­ga­zi­ne per co­lo­ro che sco­pro­no at­tra­ver­so l'e­spe­rien­za.
DISCOVER MORE
DOWNLOAD
Per mag­gio­ri in­for­ma­zio­ni e ap­pro­fon­di­men­ti tec­ni­ci, è pos­si­bi­le re­pe­ri­re con­te­nu­ti ex­tra nel­la se­zio­ne do­wn­load.
DOWNLOAD YACHT BROCHURE
MORE
INFO
Abbiamo unito i migliori designer, capitani e lavoratori qualificati:
le esperienze e le visioni dei più si sono fuse in un progetto unico. La nostra classe di yacht è selezionata dal mare.
CONTATTACI
PER UNA MIGLIORE ESPERIENZA
SI PREGA DI RUOTARE IL DISPOSITIVO