DISCOVER THE YACHT
La gamma Flexplorer offre agli Armatori e agli ospiti particolare privacy. Gli spazi esterni sono davvero degni di nota: un ampio pozzetto, una terrazza a poppa dell'Upper Deck ed un Sun Deck panoramico con spa e prendisole rendono unica l'esperienza della navigazione.
---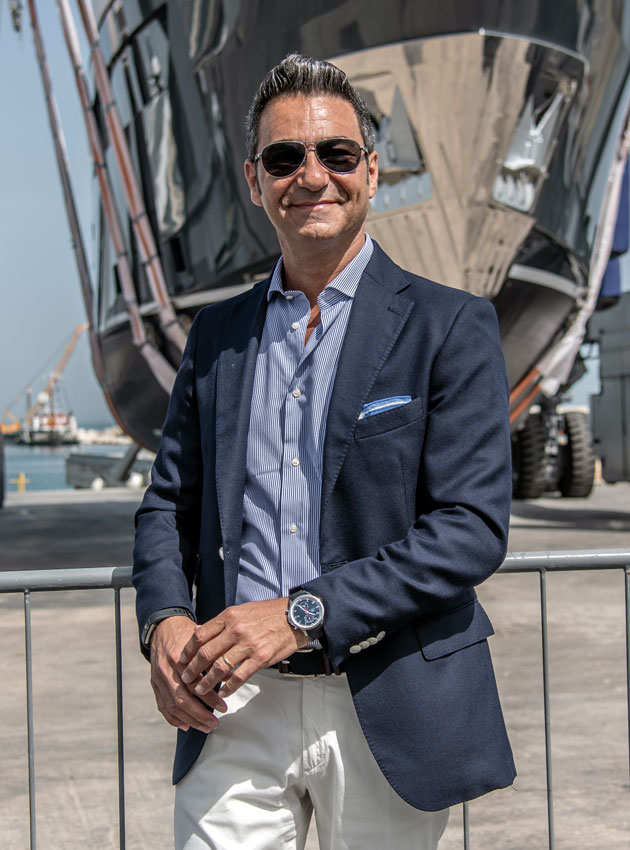 ENNIO
CECCHINI
CEO
We are sure she will be a game-changer!
Ennio Cecchini, Cantiere delle Marche's CEO, talks about the yard's new projects, namely the amazing Flexplorer.
What's in store for Cantiere delle Marche's future?
Cantiere delle Marche is moving forward with new lines and one-off projects among which the Flexplorer line represents indeed a highlight as well as a turning point. I am sure this model will be a feather in the cap for Cantiere delle Marche!
What values and characteristics define better an explorer built by Cantiere delle Marche nowadays?
The embrace of both design and technological advancements and deeply held commitment to move forward define what a Cantiere delle Marche's explorer vessel is today. The Flexplorer is a testament to these values: a new class of yacht that fuses superyacht standards of space and design with rugged, go-anywhere capabilities – all in a more flexible package. It is indicative of a core strength of Cantiere delle Marche, which introduces innovative models and technologies into the market while being able to preserve its vision and mission: building strong and reliable explorer vessels.
Would you please point out concepts and features that make Flexplorer stand out from the crowd?
Among Flexplorer's genuinely unique aspects it is worth mentioning the fold-down bulwarks that enlarge the deck space astern creating a huge terrace and an A-frame crane that is perfectly encompassed in the deck's flooring. The A-frame crane is a remarkable piece of engineering purposely developed by Cantiere delle Marche's to provide the yacht with a powerful crane to launch a haul a tender of up to 2.5t without interfering with full use of deck space. When the crane is not is use, it literally disappears into the deck's flooring becoming a part of it. The smooth teak surface, once the tender is in the water, turns into a large and comfortable area for all guests enjoy relax under the sun: 115 square metres of lounging and sunbathing area equipped with sofas, tables, sunbeds, shaded – when and where necessary - by stylish beach umbrellas. It goes without saying that the A-frame crane also allows much safer loading and offloading operations as well as it eliminates any inclining issue. Another outstanding feature are the fold-down bulwarks on both sides of the cockpit. When folded down they sit flush with the teak flooring and extend out the cockpit surface offering uninterrupted views. It is not just a matter of square metres added to an already large area, it is the sense of being in full contact with the sea and the surrounding landscape that really adds and offers an ineffable sense of freedom.
CDM EXPERIENCE
CdM esplora il mondo del mare e della navigazione. Volti, pensieri e visioni di un'evoluzione dinamica, che riflette forza e chiarezza, tensione ed equilibri. CdM Experience è il magazine per coloro che scoprono attraverso l'esperienza.
DISCOVER MORE
DOWNLOAD
Per maggiori informazioni e approfondimenti tecnici, è possibile reperire contenuti extra nella sezione download.
MORE
INFO
Abbiamo unito i migliori designer, capitani e lavoratori qualificati:
le esperienze e le visioni dei più si sono fuse in un progetto unico. La nostra classe di yacht è selezionata dal mare.
CONTATTACI
PER UNA MIGLIORE ESPERIENZA
SI PREGA DI RUOTARE IL DISPOSITIVO