FROM 39 TO 47 mt
LENGTH OVERALL
2.60 mt
DRAUGHT FULL LOAD
A-Frame Crane
Up to 2500 kg tender can be launched thanks to this crane, completely hidden on the deck, flush mounted and covered with teak.
MD exterior area 115 m²
This extensive deck area, further enlarged thanks to the openable bulwarks, connects the main salon to the sea has an infinite number of set up.
DISCOVER THE YACHT
The Flexplorer configuration offers plenty of privacy to Owners and guests both indoor and outdoor. The outdoor spaces are quite remarkable: in addition to the super-large cockpit there are also a stern terrace on the Upper Deck and a panoramic Sun Deck with spa-pool and sun lounges.
YACHT COMPARATIVE
DISCOVER THE FLEET
Cantiere delle Marche has brought yachting to a new dimension expanding your horizons and widening your possible experiences on the oceans beyond expectations. Thanks to CdM Vessels, it is finally going to be you deciding which routes and emotions to explore. Not the limits of your Yacht.
DISCOVER MORE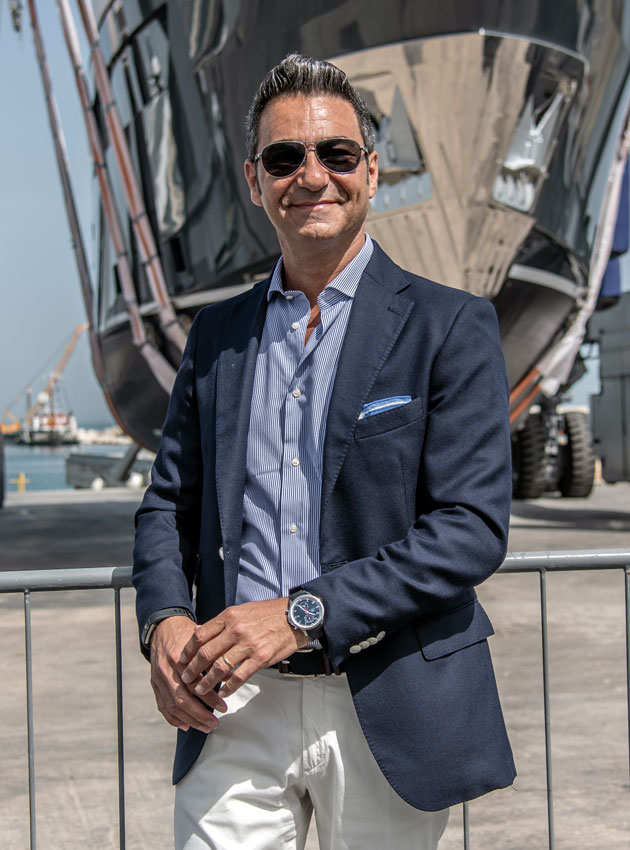 ENNIO
CECCHINI
CEO
We are sure she will be a game-changer!
En­nio Cec­chi­ni, Can­tie­re del­le Mar­che's CEO, talks about the yard's new pro­jec­ts, na­me­ly the ama­zing Flex­plo­rer.
Wha­t's in sto­re for Can­tie­re del­le Mar­che's fu­tu­re?
Can­tie­re del­le Mar­che is mo­ving for­ward with new li­nes and one-off pro­jec­ts among whi­ch the Flex­plo­rer line re­pre­sen­ts in­deed a hi­ghlight as well as a tur­ning point. I am sure this mo­del will be a fea­ther in the cap for Can­tie­re del­le Mar­che!
What va­lues and cha­rac­te­ri­stics de­fi­ne bet­ter an ex­plo­rer built by Can­tie­re del­le Mar­che no­wa­days?
The em­bra­ce of both de­si­gn and tech­no­lo­gi­cal ad­van­ce­men­ts and dee­ply held com­mit­ment to move for­ward de­fi­ne what a Can­tie­re del­le Mar­che's ex­plo­rer ves­sel is to­day. The Flex­plo­rer is a te­sta­ment to the­se va­lues: a new class of ya­cht that fu­ses su­pe­rya­cht stan­dards of spa­ce and de­si­gn with rug­ged, go-any­whe­re ca­pa­bi­li­ties – all in a more fle­xi­ble pac­ka­ge. It is in­di­ca­ti­ve of a core streng­th of Can­tie­re del­le Mar­che, whi­ch in­tro­du­ces in­no­va­ti­ve mo­dels and tech­no­lo­gies into the mar­ket whi­le being able to pre­ser­ve its vi­sion and mis­sion: buil­ding strong and re­lia­ble ex­plo­rer ves­sels.
Would you plea­se point out con­cep­ts and fea­tu­res that make Flex­plo­rer stand out from the cro­wd?
Among Flex­plo­re­r's ge­nui­ne­ly uni­que aspec­ts it is wor­th men­tio­ning the fold-do­wn bul­warks that en­lar­ge the deck spa­ce astern crea­ting a huge ter­ra­ce and an A-fra­me cra­ne that is per­fec­tly en­com­pas­sed in the dec­k's floo­ring. The A-fra­me cra­ne is a re­mar­ka­ble pie­ce of en­gi­nee­ring pur­po­se­ly de­ve­lo­ped by Can­tie­re del­le Mar­che's to pro­vi­de the ya­cht with a po­wer­ful cra­ne to laun­ch a haul a ten­der of up to 2.5t wi­thout in­ter­fe­ring with full use of deck spa­ce. When the cra­ne is not is use, it li­te­ral­ly di­sap­pears into the dec­k's floo­ring be­co­ming a part of it. The smoo­th teak sur­fa­ce, once the ten­der is in the wa­ter, turns into a lar­ge and com­for­ta­ble area for all guests en­joy re­lax un­der the sun: 115 squa­re me­tres of loun­ging and sun­ba­thing area equip­ped with so­fas, ta­bles, sun­beds, sha­ded – when and whe­re ne­ces­sa­ry - by sty­lish bea­ch um­brel­las. It goes wi­thout say­ing that the A-fra­me cra­ne also al­lo­ws much sa­fer loa­ding and of­floa­ding ope­ra­tions as well as it eli­mi­na­tes any in­cli­ning is­sue. Ano­ther ou­tstan­ding fea­tu­re are the fold-do­wn bul­warks on both si­des of the coc­k­pit. When fol­ded down they sit flush with the teak floo­ring and ex­tend out the coc­k­pit sur­fa­ce of­fe­ring unin­ter­rup­ted views. It is not just a mat­ter of squa­re me­tres ad­ded to an al­rea­dy lar­ge area, it is the sen­se of being in full con­tact with the sea and the sur­roun­ding land­sca­pe that real­ly adds and of­fers an inef­fa­ble sen­se of free­dom.
CDM EXPERIENCE
CdM explores the world of sea and navigation. Faces, thoughts and visions of a dynamic evolution, reflecting strength and clarity, tension and dynamic balances. CdM Experience is the magazine for those who discover by experience.
DISCOVER MORE
DOWNLOAD
For more information and technical details, you can find extra contents in the download section.
DOWNLOAD YACHT BROCHURE
MORE
INFO
We have combined the best designers, captains and skilled workers:
experiences and visions of the most have merged into a unique project. Our class of yachts is selected by the sea.
CONTACT US
FOR A BEST EXPERIENCE
PLEASE TURN YOUR DEVICE