The quest

of knowledge
In order to accommodate diverse Owner preferences and aspirations, the Flexplorer models are adaptable, allowing for maximum flexibility in both configuration and features. This adaptability is the key attribute of the Flexplorer line.
When we first introduced the concept of deeply versatile/flexible explorer yachts, we foresaw its allure for Owners in search of a vast and all-encompassing voyage. What we do with the Flexplorers is proposing models ranging from 132 to 146 feet distinguished by a rigorous design devoid of any stylistic redundancy and that, despite being well-balanced and elegant, exudes strength and reliability. All Flexplorers, regardless of size, feature elevated bow and bulwarks, extremely large main deck cockpit, generous interior spaces for both guests, crew, and storages. The explorer yachts of the Flexplorer line, designed by Hydro Tec, boast streamlined naval architecture to optimize fuel efficiency, incorporate engines with a conservative power output, and offer an extraordinary long range.
They effortlessly accommodate various water toys, diving gear, and sport equipment, while offering spacious and inviting interiors that ensure utmost comfort during extensive journeys to the farthest corners of the world or more relaxed coastal sailing in the Med or tropical archipelagoes. As many Owners require the inclusion of large tenders, we have developed an ingeniously concealed A-frame crane integrated into the deck, ensuring seamless hauling and launching of the tender without compromising yacht stability and aesthetics.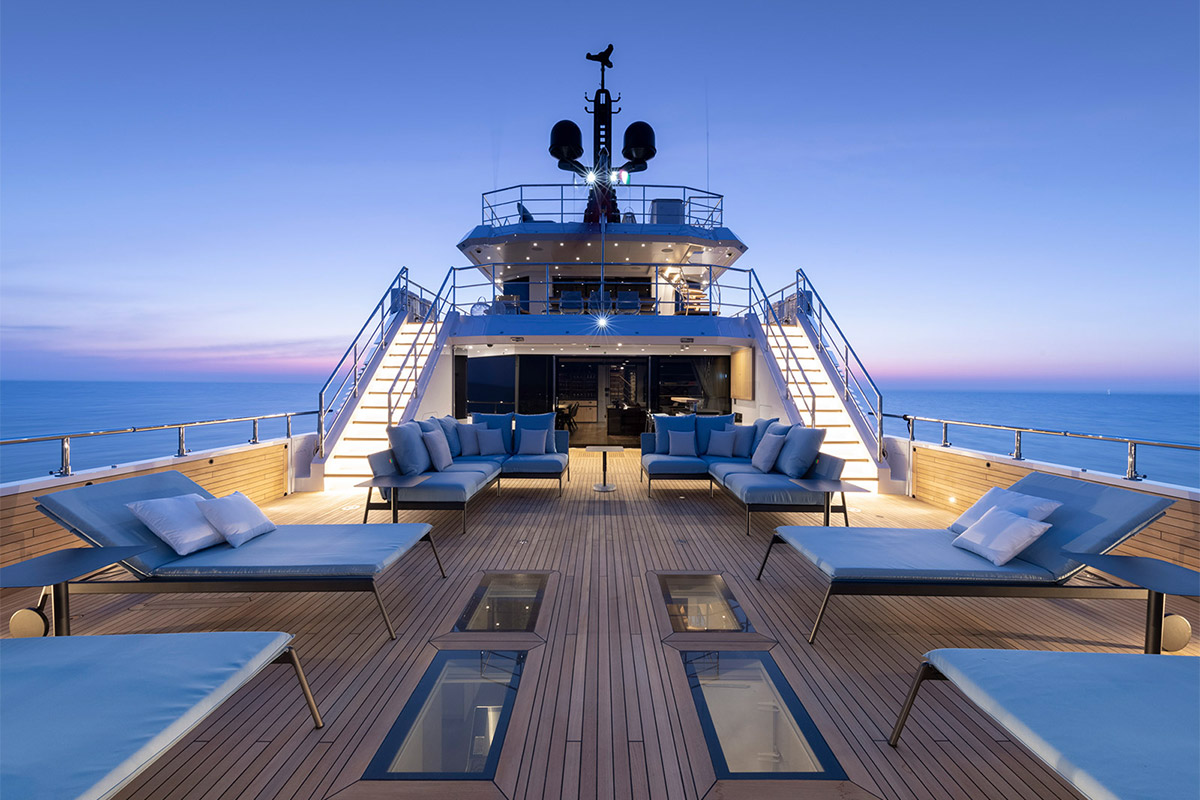 Main deck
As the name suggests, the Flexplorer has in the flexibility her main trait and therefore the aft main deck can be used for different purposes. As a toys' carrier certainly, in fact a tender up to 30', a sailboat and two jet skis can easily be stored. Alternatively, some of the space can be traded to host a submarine. But once the toys are on the water, the deck turns into a sumptuous beach club, including a swimming pool, collapsible bulwarks and stairs at stern that lead directly to the sea. Evening comes and round tables can be laid with candles, soft lights, sweet scents and background music making up for the perfect atmosphere. Hours later, to close-up the day, the deck becomes an open-air dance floor. Arriving to the Flexplorer in style from the sky is also an option, as the main deck is suitable for touch and go helipad operations.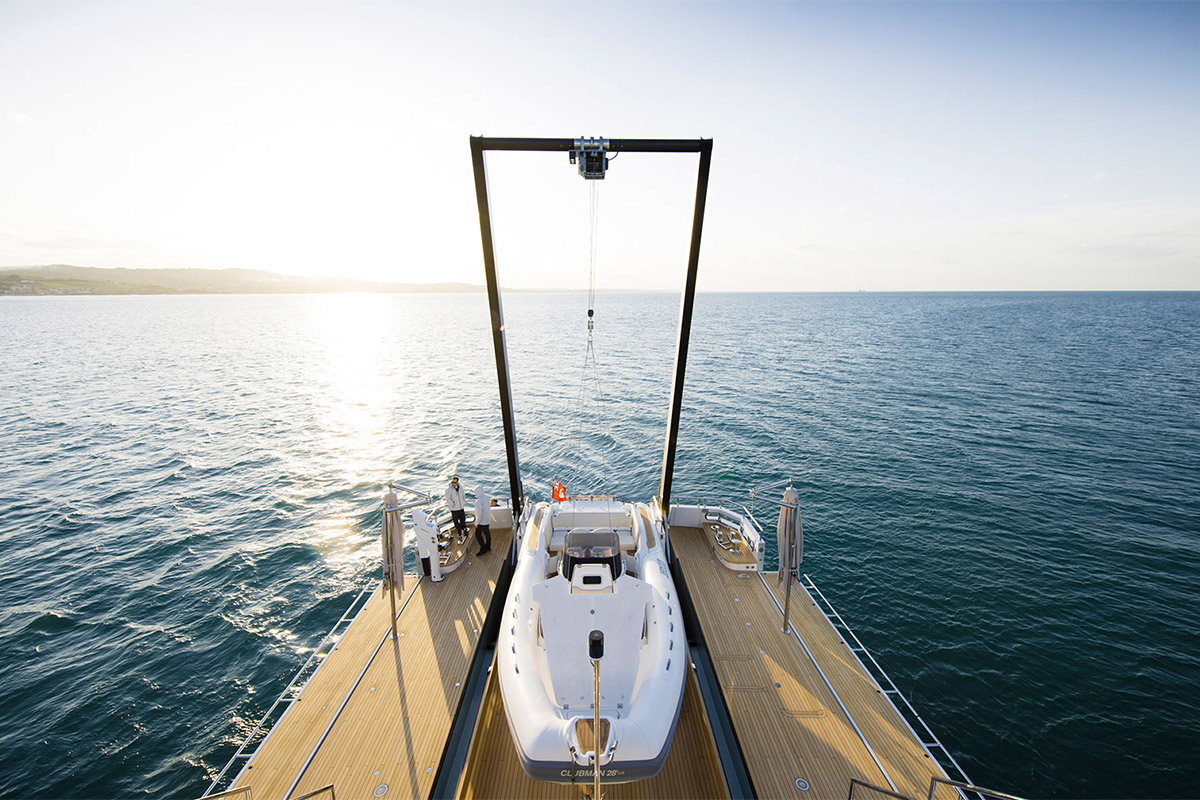 A-frame
Our innovative, powerful A-frame, a hydraulic crane system, redefines yachting possibilities by effortlessly launching and retrieving tender and other toys. This technology, commonly employed in research vessels, marks a pioneering introduction into the yachting industry, specifically within our size segment.
When not in use, the A-frame seamlessly disappears into the deck, preserving the pristine appearance of the main deck's teak surface. This clever design ensures that no part of your deck view is obstructed by the crane, enabling you to maximize the available space for toy storage or creating a luxurious beach club experience.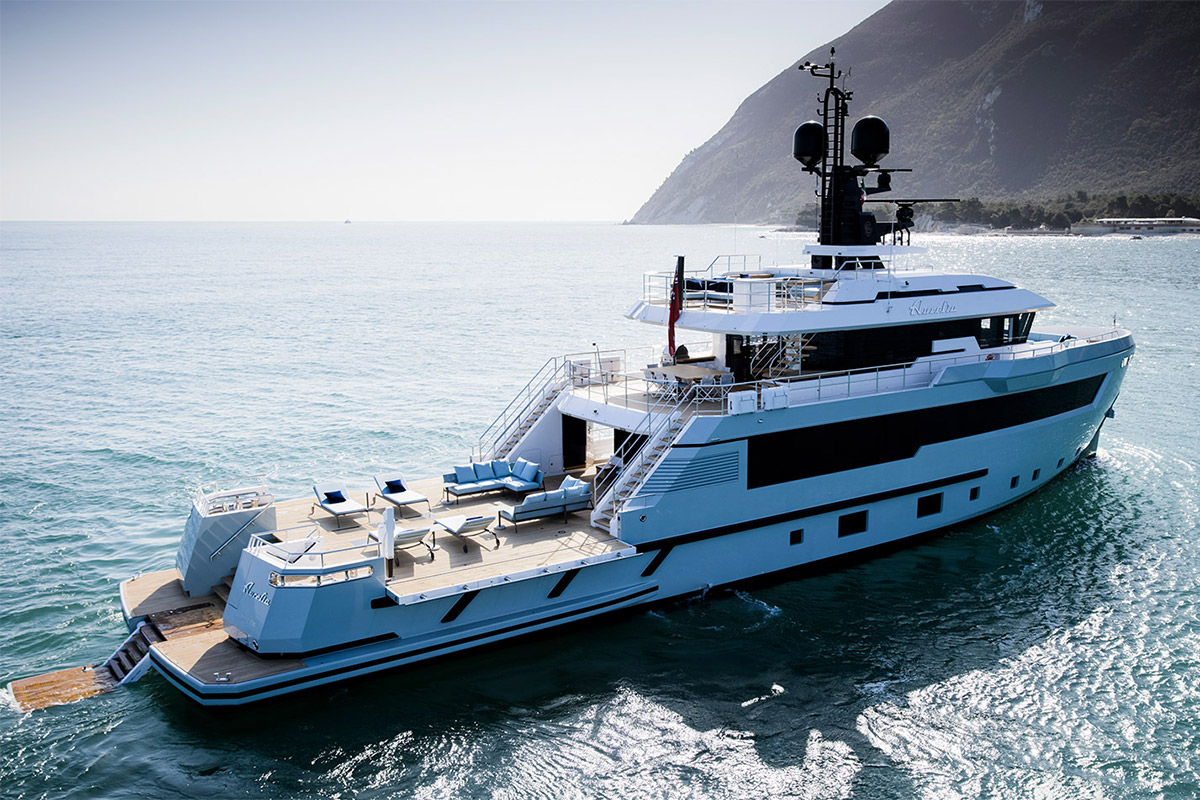 Foldable bulwarks
On main deck aft, both side bulwarks can be folded down, thus enlarging the deck space and offering a perfect diving platform. 6 mt in length and covered with teak, when opened the bulwarks sit perfectly flush with the main deck surface.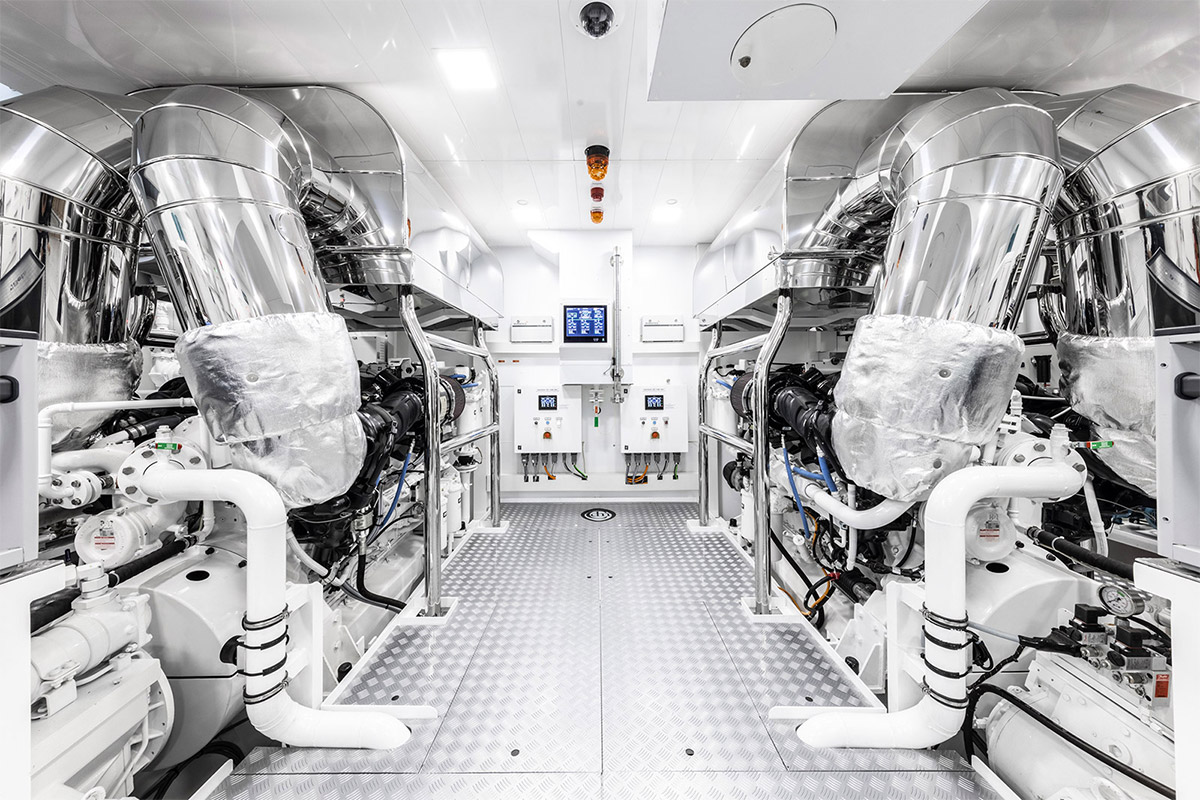 Engine room & tank deck tunnel
Our capacious engine room is a testament to our commitment to technical excellence. It has been meticulously designed to ensure optimal ventilation airflow, ample space for routine maintenance, easy accessibility to all ship systems, strict adherence to safety regulations, and effective noise and vibration dampening.
Running longitudinally between the engine room and the forward storage locker, the tunnel serves as a vital conduit. It houses essential piping and electrical cabling for the boat while offering convenient access to the hatches of the fuel and grey water tanks, ensuring seamless functionality and ease of maintenance.
Journey
Voyages to distant horizons: sailing to remote shores with Cantiere delle Marche's explorer yachts.
DISCOVER MORE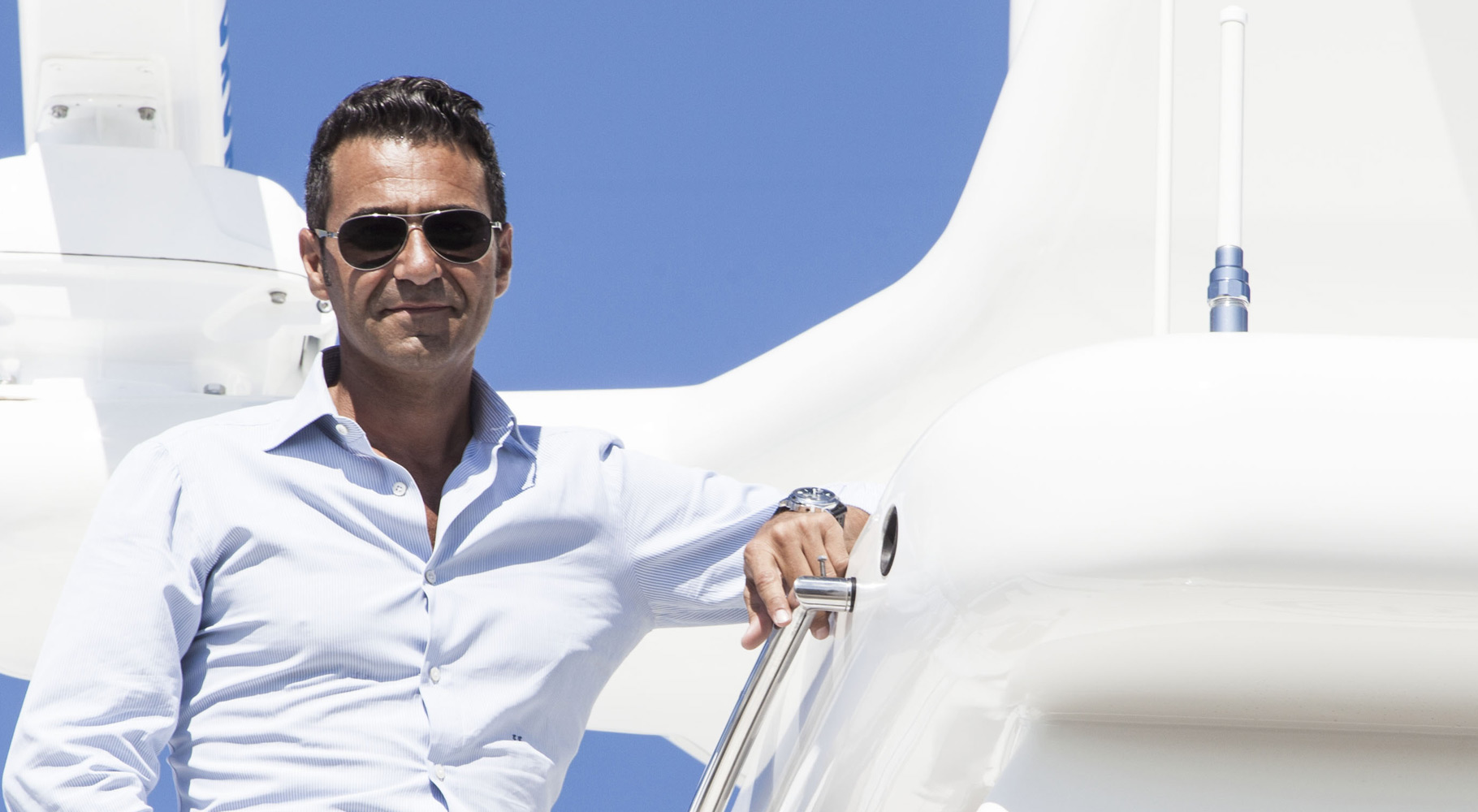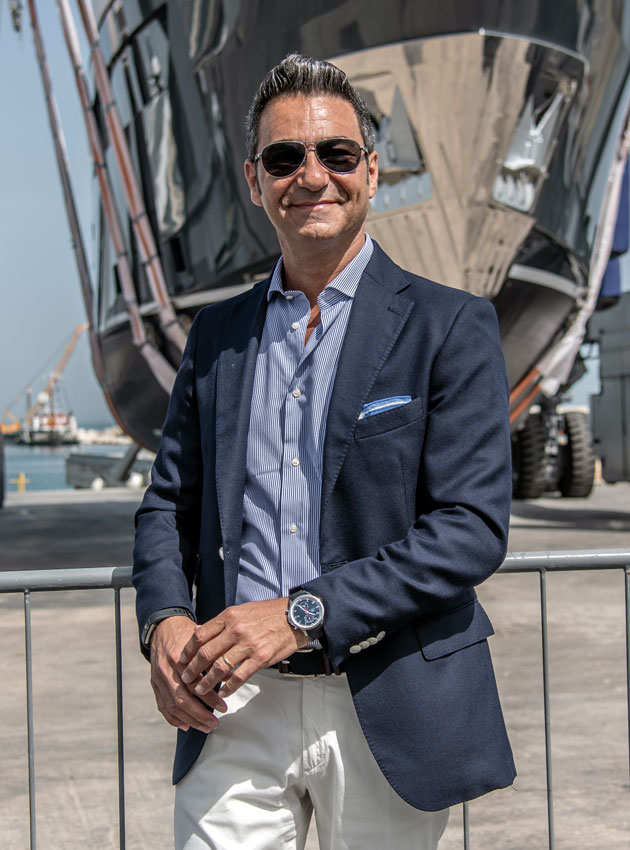 Ennio
Cecchini
CEO
---
We are sure she will be a game-changer!
Ennio Cecchini, Cantiere delle Marche's CEO, talks about the yard's new projects, namely the amazing Flexplorer.
---
What's in store for Cantiere delle Marche's future?
Cantiere delle Marche is moving forward with new lines and one-off projects among which the Flexplorer line represents indeed a highlight as well as a turning point. I am sure this model will be a feather in the cap for Cantiere delle Marche!
What values and characteristics define better an explorer built by Cantiere delle Marche nowadays?
The embrace of both design and technological advancements and deeply held commitment to move forward define what a Cantiere delle Marche's explorer vessel is today. The Flexplorer is a testament to these values: a new class of yacht that fuses superyacht standards of space and design with rugged, go-anywhere capabilities – all in a more flexible package. It is indicative of a core strength of Cantiere delle Marche, which introduces innovative models and technologies into the market while being able to preserve its vision and mission: building strong and reliable explorer vessels.
Would you please point out concepts and features that make Flexplorer stand out from the crowd?
Among Flexplorer's genuinely unique aspects it is worth mentioning the fold-down bulwarks that enlarge the deck space astern creating a huge terrace and an A-frame crane that is perfectly encompassed in the deck's flooring. The A-frame crane is a remarkable piece of engineering purposely developed by Cantiere delle Marche's to provide the yacht with a powerful crane to launch a haul a tender of up to 2.5t without interfering with full use of deck space. When the crane is not is use, it literally disappears into the deck's flooring becoming a part of it. The smooth teak surface, once the tender is in the water, turns into a large and comfortable area for all guests enjoy relax under the sun: 115 square metres of lounging and sunbathing area equipped with sofas, tables, sunbeds, shaded – when and where necessary - by stylish beach umbrellas. It goes without saying that the A-frame crane also allows much safer loading and offloading operations as well as it eliminates any inclining issue. Another outstanding feature are the fold-down bulwarks on both sides of the cockpit. When folded down they sit flush with the teak flooring and extend out the cockpit surface offering uninterrupted views. It is not just a matter of square metres added to an already large area, it is the sense of being in full contact with the sea and the surrounding landscape that really adds and offers an ineffable sense of freedom.
Info
We have combined the best designers, captains and skilled workers:
experiences and visions of the most have merged into a unique project. Our class of yachts is selected by the sea.
CONTACT US
FOR A BEST EXPERIENCE
PLEASE TURN YOUR DEVICE