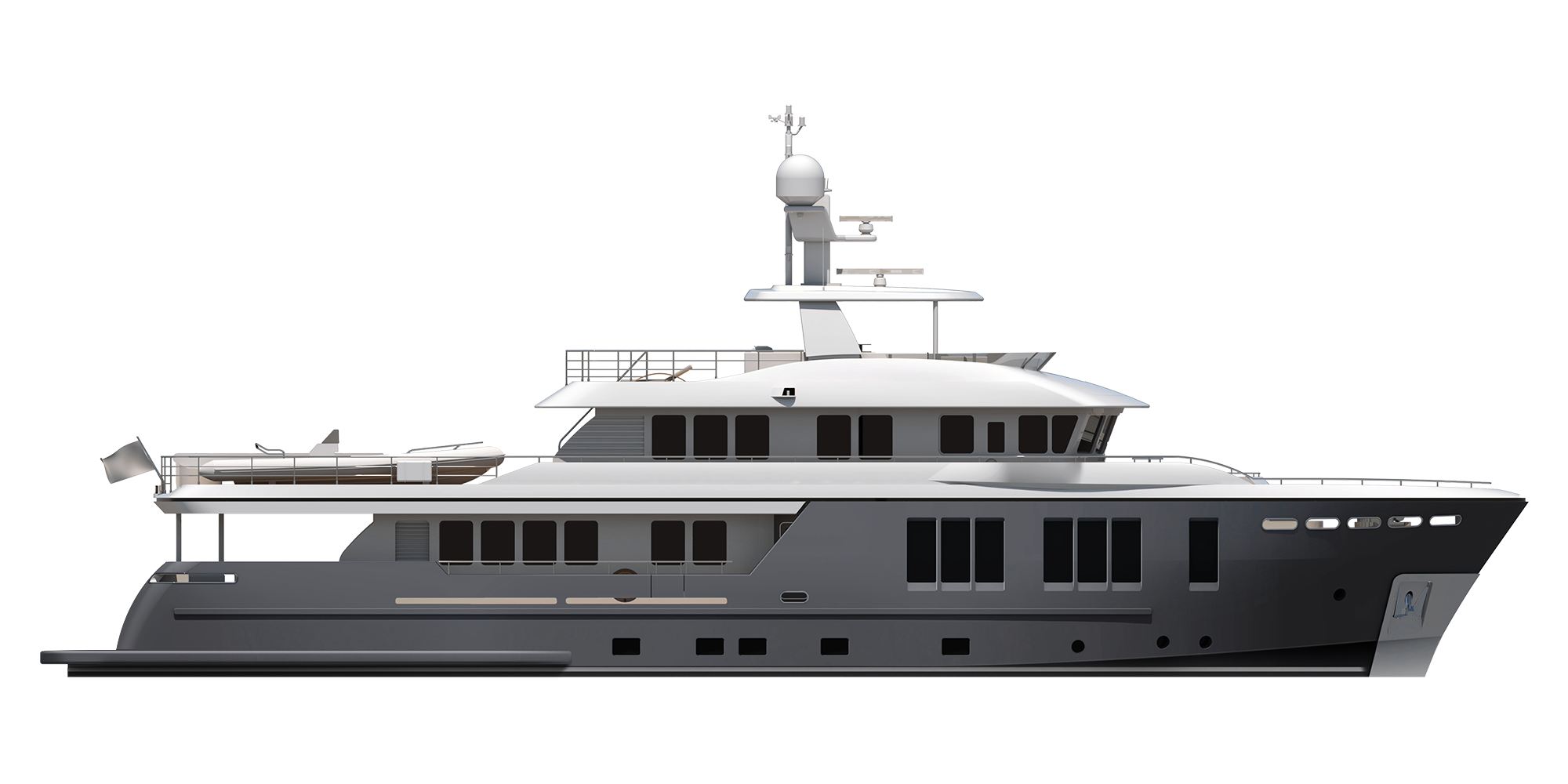 Flagship of the Darwin Class's fleet, the Darwin 115 is the epitome of the line she belongs to. A true go-anywhere ship, this model has been designed to offer both Owners/guests and crew the utmost comfort. We have meticulously designed both private and common areas, and outdoor entertainment spaces that serve as hubs of social interaction for guests. As we remain committed to environmentally responsible practice, the 115, as all explorer yacht of the Darwin Class, includes advanced waste management systems and energy-efficient machineries to minimize our environmental footprint.
Specifications
---
Length overall
---
Waterline length
---
Max beam
---
Depth, amidship
---
Draught, full load under the keel
---
Displacement, full load
---
Classification
---
Exterior design
---
Diesel oil
---
Urea
---
Fresh water
---
Black water
---
Grey water
---
Clean oil / Dirty oil
---
Bilge
---
Engines
2x CATERPILLAR C18 ACERT 2x500 kW @ 1˙800 - 2˙100 rpm
---
Gearbox
---
Generator
---
Bow thruster / Stern thruster
---
Stabilizer fins
---
Maximum speed
---
Cruise speed
---
Range
---
Passengers
8 (+2 Pullman Bed) / 4 Cabins
---
Crew
---
General Plan




---
Info
We have combined the best designers, captains and skilled workers:
experiences and visions of the most have merged into a unique project. Our class of yachts is selected by the sea.
CONTACT US
FOR A BEST EXPERIENCE
PLEASE TURN YOUR DEVICE