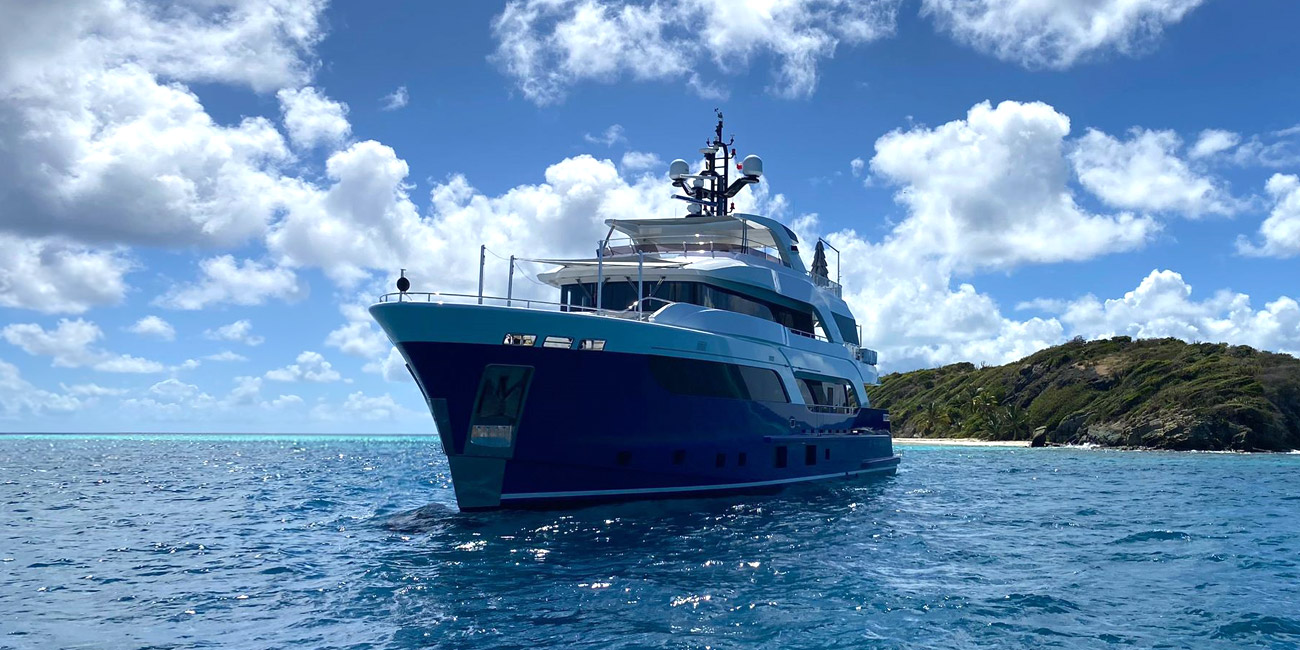 INTERVIEW TO
CAPT. GREGORY CLARK
At 32-metres, with two Atlantic crossings from the Med to the Caribbean and back, and tens of thousands of miles logged, M/Y Gatto unequivocally establishes herself as a true go-anywhere, ocean-going vessel.
Gregory Clark, Captain of M/Y Gatto, shares his experience aboard the Acciaio 105 delivered by Cantiere delle Marche in 2018.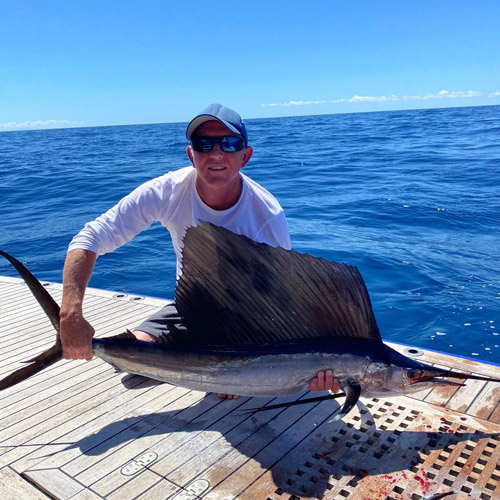 CDM - Are you Captain of Gatto since her delivery?
GC - No, I took the command of the yacht a year later and since then I've been on board sailing for thousands of miles with the Owners, their family, and friends.

CDM - Do the Owners spend long periods of time on board?
GC - Year-round, several times, in periods ranging from two to three weeks.

CDM - How they use the yacht? Where do they like to go?
GC - The yacht is for exclusive family use. Over the years, we extensively sailed in the Med where thousands of little islands still offer unspoiled sea and almost uninhabited coasts. They prefer the tranquility of living aboard surrounded by nature avoiding crowded marinas or ports. We also reached the Caribbean where we spent an entire season.

CDM - What strengths does the yacht possess?
GC - Difficult to say… making a list of the yacht's strengths proves to be a challenging task, however I must emphasize that she, as a cohesive entity, boasts an exceptional array of qualities. The engine room is superbly arranged and both main and ancillary equipment are at hand. Gatto provides her Owners and guests with ample space and comfort, with large private and social areas for gathering or enjoying solitude. Additionally, she offers abundant storage, ensuring self-sufficiency during extended periods. With 45000 litres fuel tanks and twin Caterpillar C18 delivering 500kW each, Gatto has a remarkable range of above 4500 nautical miles at 10 knots. At a mere 32 metres, Gatto emerges as a captivating little ship in every regard! She is robust, unwavering in reliability and effortlessly mastered. She boldly ventures into the ocean and even amidst tempestuous seas, she cradles you in a haven of security and comfort.

CDM - What about the Ocean crossing?
GC - Remarkably, we crossed the Atlantic twice overcoming every obstacle without a whisper of concern. It took eleven days to sail from the Canary Islands to the Caribbean where the Owners enjoyed a pleasant journey which brought us through the tropical opulence of the islands that dot that region. Once the season was over, we embarked for another eleven days sailing from the Caribbean to the Azores, and finally for a gripping four-day sailing to the Med. This journey gifted me an awe-inspiring experience, consolidating my profound appreciation for the yacht's virtues.
Download