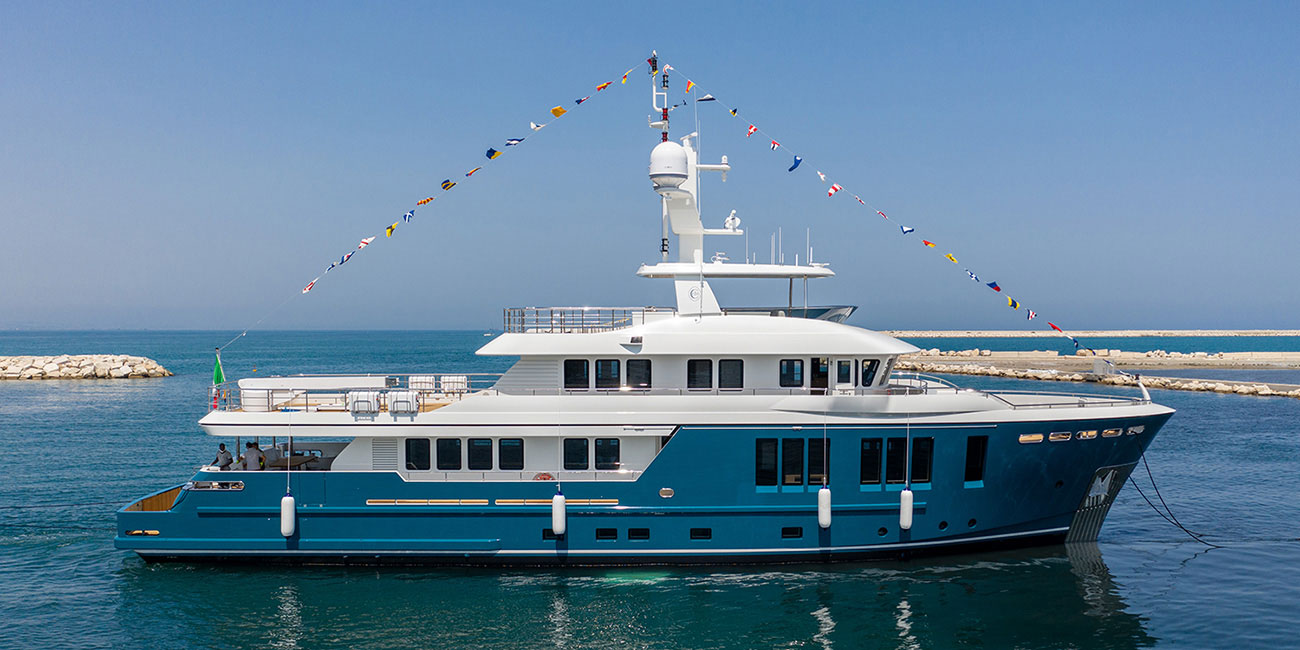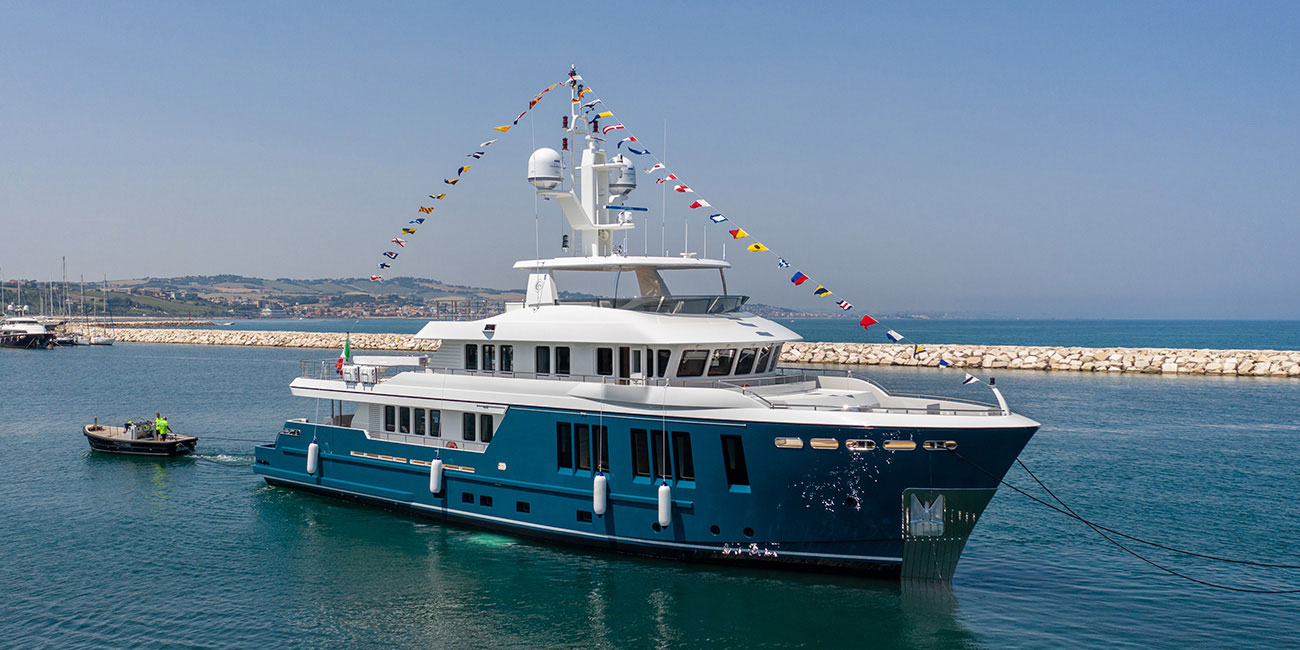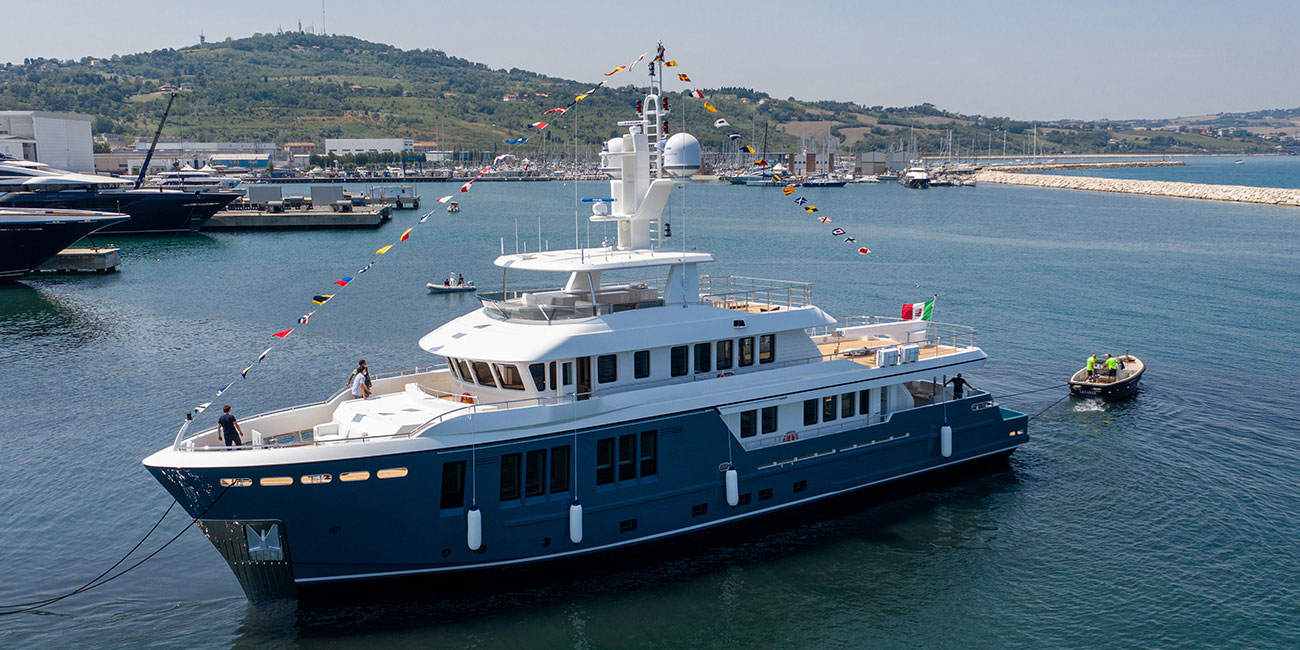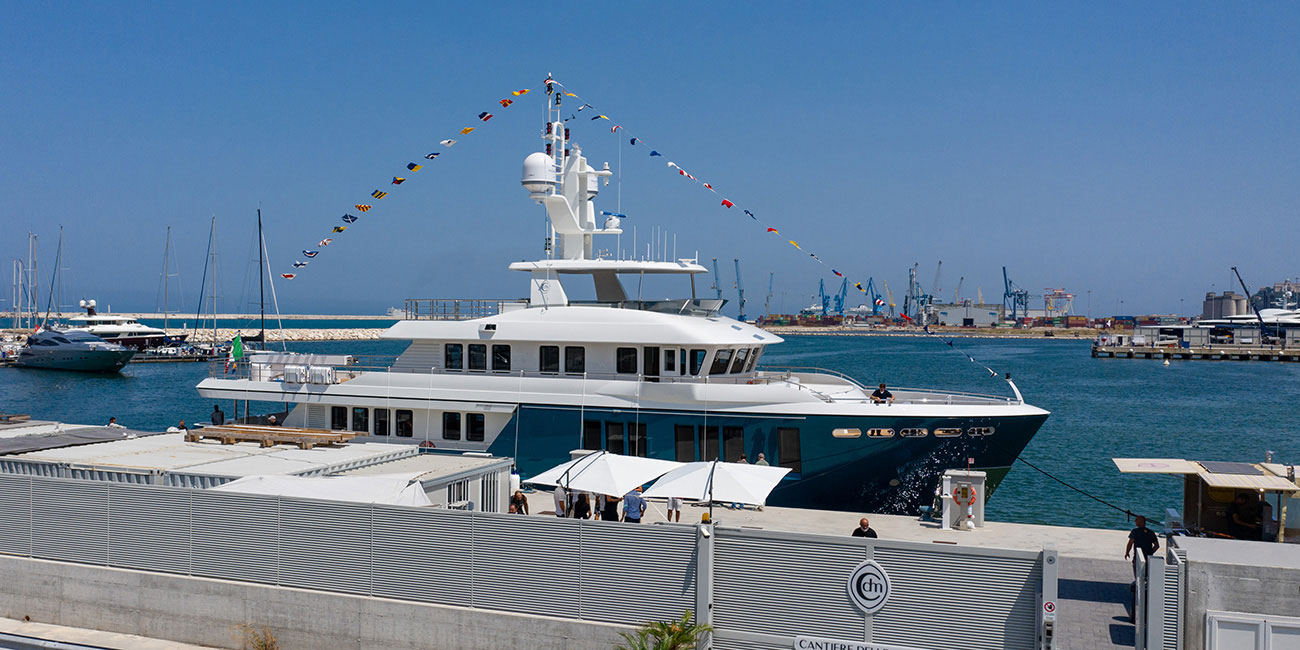 DARWIN 115'
The largest Darwin to date has been successfully launched on july 29th.
"We are very glad that this experienced Owner decided to entrust us to build his Darwin and proud for the confidence he has placed in our team," says Vasco Buonpensiere, co-founder and sales and Marketing Director at CdM. "We did our best to fulfill his expectations!" Purchased by a very experienced and passionate Owner, the Darwin 115 started as a 112-footer and grew of around 3 feet as her Owner decided to have a longer and enclosed swim platform to enjoy a close relationship with the sea.

With his new yacht the Owner plans long distance cruising to reach remote areas of the globe in full safety and relaxation with family and friends. He has decided to purchase a Darwin Class yacht designed according to his requests as he appreciated the series' extraordinary reliability, safety, habitability and rational layout. Among other qualities, the Owner appreciates the Darwin's high bow that intercepts rough seas and sea- kindly hull granting full comfort and a feeling of protection to guests.

The Darwin 115 is designed to sail thousands of miles a year and quality of construction, materials and technical equipment are critical to simplify the yacht's daily handling and upkeep. The engine room is always of key importance to CdM. Using proven high wear equipment in a large and well laid out engine room allows for ease of service by crew and the Darwin 115 is no exception.

The Darwin 115 is a genuine beauty of construction and design boasting the unmistakable Darwin aesthetics while leveraging on CdM's unique DNA. The project, customized according to his owner precise requests, features Nauta Design's interiors. This is the first time that Nauta designers, Mario Pedol and Massimo Gino, sign the interior of a Darwin Class. The interior decoration features an understated yet sophisticated style with plenty of bleached and brushed oak.

Exterior design and naval architecture bring the signature of Sergio Cutolo/Hydro Tec. The owner and his team worked with the designers and the shipyard engineers to tailor the Darwin 115 to their taste and lifestyle, creating a yacht that will take them around the world in comfort and safety.

MAIN FEATURES:

Lower deck:
Large swim platform surrounded by a high bulwark that partially folds down astern. It is a true terrace at sea level;
The Owner is a keen diver so the yacht has full scuba-diving equipment;
The lazarette is equipped with a professional ice-maker and ice box up to 200 litres and with large cabinets to store all sort of equipment.
Main deck:
Full heigth windows in both Owner suite and galley;
Extra layers of insulating materials in the Owner suite to further dampen the level of noise and vibrations.
Upper deck:
The Upper deck has been lengthened and strengthened astern to carry a 3t crane and two large tenders;
Large gym with Technogym and Home Fitness equipment.
Sun deck:
100 square metres of surface equipped with sun beds, table for 12, bar and BBQ;
Hard top: 2 satellite antennas KVH series 11.
Decoration:
Bleached and brushed oak;
Perennials fabrics.
MAIN DATA:

› Length overall 35m
› Waterline length 31.55m
› Max beam 7.70m
› Depth, amidship 4.30m
› Draught* 2.60m
› Displacement* 290t approx.
› Diesel oil 55.400
› Fresh water 9.390
› Black water 1.450
› Grey water 11.360
› Clean oil / Dirty oil 466 / 466
› Bilge 1.450
› Engines 2xCaterpillar C18 ACERT (500kW @2 ̇100rpm)
› Gearbox 2x ZF W650 free standing - gear ratio 4,057:1
› Generator 2x55 kW + 1x35kW Kohler
› Bow and Stern thruster 52 kW + 30 kW
› Stabilizer fins Electrical, Zero Speed
› Maximum speed 13 knots
› Cruise speed 11 knots
› Range 5.000 nm @ 10 knots
› Passengers 8 (+2 Pullman Bed) / 4 Cabins
› Crew 7 / 4 Cabins

* Full load
DOWNLOAD