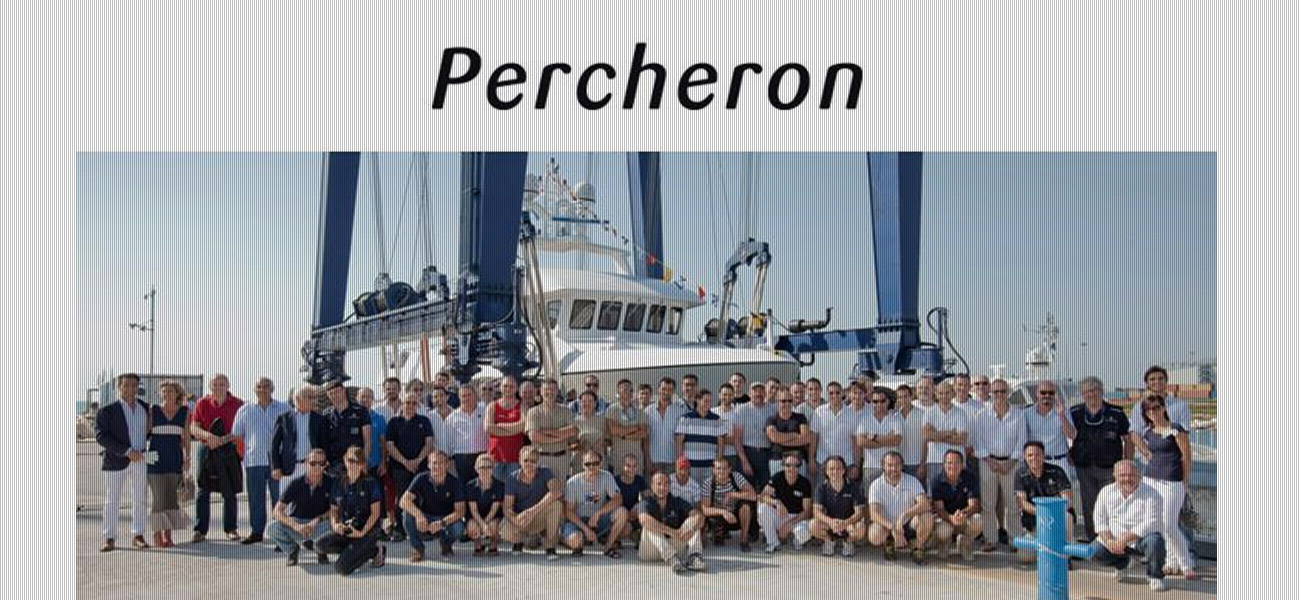 Cantiere delle Marche
launches its second
Darwin Class 86'
Percheron
Italian shipyard Cantiere delle Marche is proud to announce the launch of the second Darwin Class 86', a 26-metre Explorer vessel in steel and alluminium built by Cantiere delle Marche and designed by Sergio Cutolo of Hydro Tec. "PERCHERON": this is the name of the new CdM Darwin Class 86 that will be presented in september at Festival de la Plaisance in Cannes and will then debut in the US, at the boat shows in Fort Lauderdale, Miami and Palm Beach, where it will represent the excellence of the Marches Region that CdM already express thanks to the trust of 7 international owners that have chosen CdM to build their future Yacht.
The new Darwin Class 86 – M/Y Percheron, has a totally different layout features from the first "Vitadimare3", yacht that marked the beginning of the shipyard based in Ancona, builder of Italian leisure craft, and specifically displacement-design yachts in steel and aluminium. These important differences testify the great flexibility in fulfill CdM's clients needs, raising the customization of all CdM projects to quite uncommon standards for this kind of dimensions. Ever since its recent foundation, about 20 months ago, Cantiere delle Marche has set out to distinguish itself in terms of the contents of its vessels, focussing on top-flight quality and unique design. Each ship, produced in only a limited number of units, guarantees sturdy, seaworthy performance, combined with low fuel consumption and stunning volumes. "The yachts that we build here at Cantiere delle Marche are designed into their owners' image" – says Ennio Cecchini, CEO of CdM - "Percheron in particular, stands out for the intensive and mainly family purposes: the owners will leave from Cannes, cross the Atlantic Ocean and reach the Caribbean and Florida. They will then set course for South America, until the Argentinian coasts. From there, they will cross the Panama Canal and reach Galapagos Islands".

A voyage that is not coincidental: Cantiere delle Marche is a strong supporter of the Charles Darwin Foundation for the Galapagos Islands, an international not-for-profit organization that provides scientific research and technical information and assistance to ensure the conservation of the Galapagos Islands for future generations. Since its founding, CdM has pledged to donate a significant amount for each boat sold, as it will happen in october, during a public ceremony in Fort Lauderdale during the boat show. Swen Lorenz, Executive Director of the Charles Darwin Foundation: "Galapagos is one of the world's most pristine tropical archipelagos, with wildlife that attracts nature-lovers from around the globe. We are delighted about the support provided by Cantiere delle Marche, which helps us to carry out crucial, cutting-edge scientific research."

Darwin Class, as the name could suggest, are a type of vessels that heralds an advance in the evolution of a species, namely the yacht, which, although it modifies its form, keeps its DNA unchanged, maintaining all the chromosomes that allow it to satisfy its owner's seagoing yearnings in waters anywhere in the world. The yachts measure from 21 to 40 metres, and they contain features rarely seen in vessels of this size: extrathick steel plates, engines of heavy-duty dimensions, plus design and construction details normally found of ships with lengths of more than 40 metres. Adds Vasco Buonpensiere, CdM Sales&Marketing Director: "The yacht's interior design distinguish itself thanks to the linearity and lightness of the materials: elm and white lacquer, geometrical details of carpentry, vivid ethnic tissues designed by the Maison Hermès Paris, and a deep attention to the spaces for the children. Everything has been thought considering the personality and the voyage plans of the owners".

CDM's mission is to make its yachts eco-compatible: an important contribution in this sense is the option to outfit Nauta Air vessels with Azipod electric diesel engine systems developed in collaboration with the most technologically advanced companies in the shipbuilding industry. Thanks to these innovative, highly manoeuvrable propulsion units the yachts built by Cantiere delle Marche will lower their environmental impact, reduce their emissions and achieve a quantum leap in sailing autonomy before refuelling. Recently, Cantiere delle Marche announced the new range "Nauta Air", designed by Mario Pedol and Massimo Gino of Nauta Yacht Design. A range of displacement and semi-displacement vessels with steel or aluminium hulls that measure from 80, to 96, to 105 to 115' that combine durable substance, seaworthy performance and low fuel consumption with light, airy and contemporary design and ample, liveable volumes.
DOWNLOAD