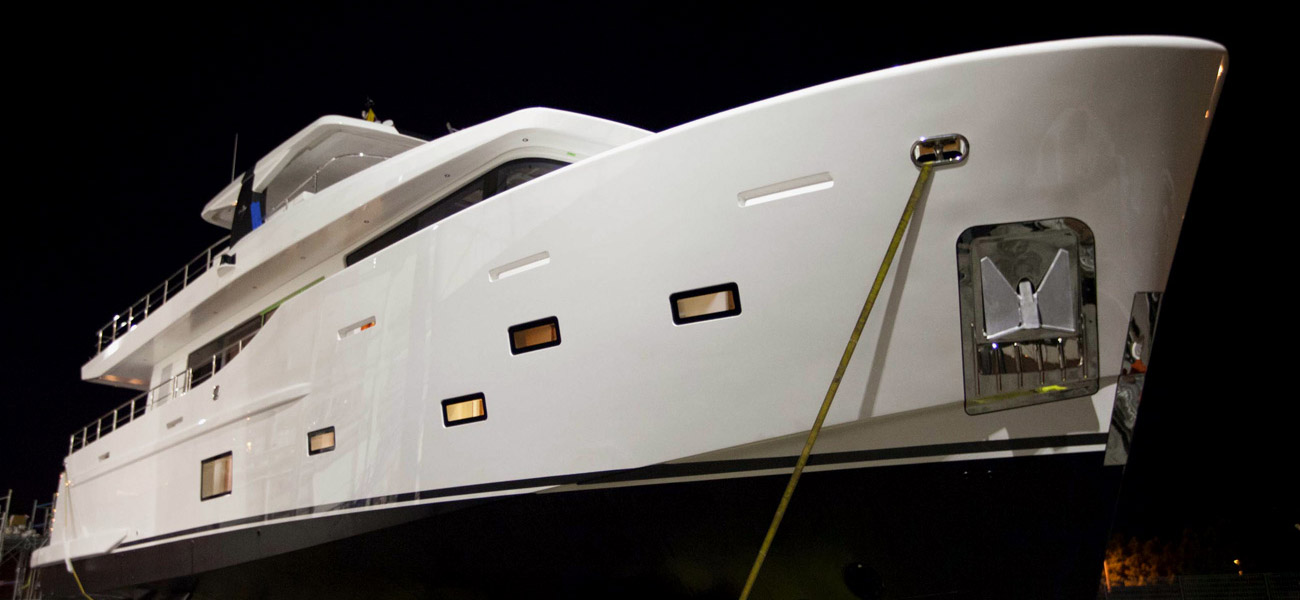 Cantiere delle Marche
delivers the 86'
Explorer Yacht
M/Y YOLO
È stato varato ad Ancona lo scorso Sabato 14 giugno M/Y "YOLO", l'Explorer Vessel di 26 metri in alluminio costruito presso il Cantiere delle Marche e progettato dall'Architetto Mario Pedol, fondatore insieme a Massimo Gino di Nauta Design.
M/Y YOLO is the first yacht in the new CdM Nauta Air line. These Explorer Yachts in aluminum offer the perfect blend of superyacht style and the same sturdy substance that characterizes Cantiere delle Marche's Darwin Class Explorer yachts, already a benchmark in the market.

Vasco Buonpensiere, Director of Sales and Marketing and partner at CdM, had these words at the launching: "Thanks to the new Nauta Air 86' project, Cantiere delle Marche has yet again shown that we are a shipyard that pays close attention to the market and knows how to anticipate its needs. We noticed that a large group of owners was looking for motor yachts that are different from the typical white-hulled planing boat with a flying bridge. They wanted an energy efficient boat that has larger interior volumes, something fully customizable and with sturdy metal construction. This without having to go for a large, three-bridge displacement yacht that can be heavy in more ways than one. Cantiere delle Marche decided to create the Nauta Air 86' line to meet their needs. This line has the essential superyacht characteristics of ample, fully customizable spaces united with energy efficient autonomy and freedom of use with limited crew. The CdM Nauta Air line is designed to meet the needs of experienced yachtsmen who want the security and comfort of a large metal-hulled displacement yacht without losing the flexibility and the ease of use of a planing yacht. The project has been an immediate success. Several yachts have been sold even before the launch of the first yacht in the series and I want to thank Nauta Design for their perfect interpretation of our brief. Their designs for the Air line fully meet our goal for yachts with strong, direct character combined with simple and elegant lines".

CdM Nauta Air yachts have been designed with new proportions and balance. Interior and exterior spaces are kept in direct visual contact thanks to use of transparent glass in both windows and doors. The galley on the main deck has been designed to be accessible both from indoors and out and the central main salon is divided into conversation, relaxation and dining areas.

CdM offers full customization to its clients. YOLO's owner was able to define, together with the shipyard and the designers, the yacht's layout. The 60 smq panoramic fly bridge, with a sun area and spacious al fresco lounge, was specifically designed for easy outdoor living. A dedicated stairway leads from the main deck to the owner's suite for total privacy. A separate entrance leads to the lower deck and guest cabins.

Arch. Mario Pedol says, "We feel that the unique aspect of life aboard a yacht lies in the opportunity it gives you to immerge yourself totally in the natural environment around you. When we sat down to design the CdM Nauta Air we always kept one priority in mind: that of bringing the outside world "in". To do this we used wide areas of glass and created architectural spaces where the indoors could communicate in harmony with the outdoors. By thinking of the yacht as one continuous space we created a new concept of on board living, especially on the main and upper decks. CdM Nauta Air yachts are motor yachts that stand out thanks to their autonomy, their on board safety and their ample living spaces. All this while retaining a solid, robust, seaworthy core that inspires confidence."

With the new Nauta Air range, Cantiere delle Marche has established its name as a byword for evolution in the conception of yachts. This range can modify its interior layouts without changing its nautical DNA, making CdM Nauta Air owner's dreams come true in waters anywhere in the world.
DOWNLOAD