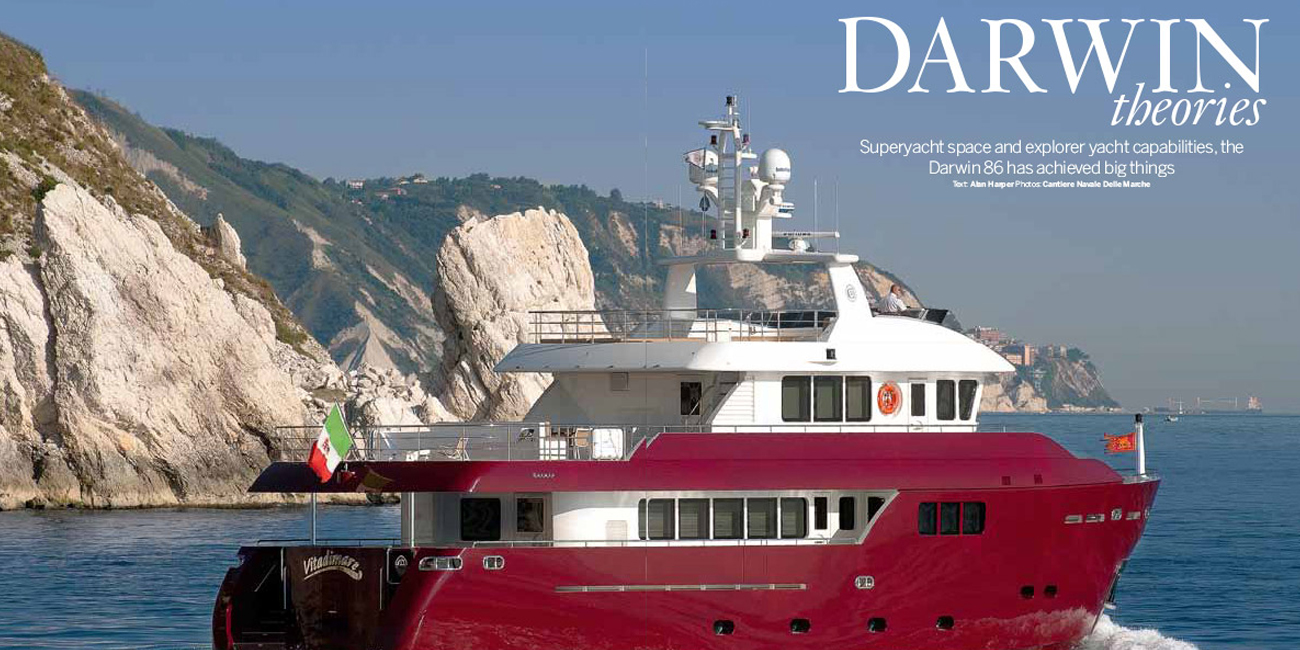 Darwin
theories
Superyacht space and explorer yacht capabilities, the Darwin 86' has achieved big things. The styling of the Darwin 86 might not be everyone's idea of chic nautique, but it is a yacht with undeniable authority and presence.
Nothing is quite what its seems with Darwin. This new 86 might look like a cross between a tug and a trawler, but it has more in common with a superyacht than most vessels this size can claim. Its steel hull and aluminium superstructure are faired to the micron and polished to perfection. It sits in the water like the Rock of Gibraltar, immovably displacing nearly 200 tonnes. Everything about the big, pro-spec wheelhouse says you're on a 130-footer, except that in order to see the bow, you have to walk to the windscreen and look down. The company that builds it is also surprising. Occupying swish new waterfront premises in the shipbuilding town of Ancona, on Italy's Adriatic coast, Cantiere delle Marche only came into being in August last year. But already they have designed a range of motor yachts of between 75 and 115ft and claim to have sold five of them, the first of which, Vitadimare, was delivered to its proud Venetian owner in June. While the second, its construction long under way, is scheduled for launch in February.

A yacht like the Darwin 86 might not appear to be an obvious first design for a fledgling Italian boatbuilder. Heavy-duty and with a no-nonsense air, it is an explorer-type motor yacht with a superyacht finish, and a price tag as impressive as its fuel capacity. In marketing terms it could be said to occupy a niche within a niche – the diametric opposite of a mainstream product. Yet buyers have been found. As sales manager Vasco Buonpensiere – an ex-CRN man – explains, the company is only new on paper. Its founders are true industry insiders. Cantiere delle Marche was set up by a consortium which got together after the Ferretti Group, whose CRN superyacht shipyard is next door, relinquished the lease on one of its new building sheds. The largest shareholding, just under 40%, is held by the Cecchini family, co-founders of the CRN yard back in 1963. Ancona businessman Massimo Vergili, who owns the premises and is therefore the shipyard's landlord, holds another 20%, with a similar share held by a local investment company.

The other two owners, with around 10% each, also have roots in Ancona: CPN engineering, and GS interior furnishings, who undertake much of the fitting-out work at Cantiere delle Marche. Sub-contracting is standard practice in Italian boatbuilding, and it is crucial to the business model at this shipyard, where the principal sub-contractors are co-owners, and full-time staff number just 16. Unorthodox it may be, but as a system it seems to work.
Download