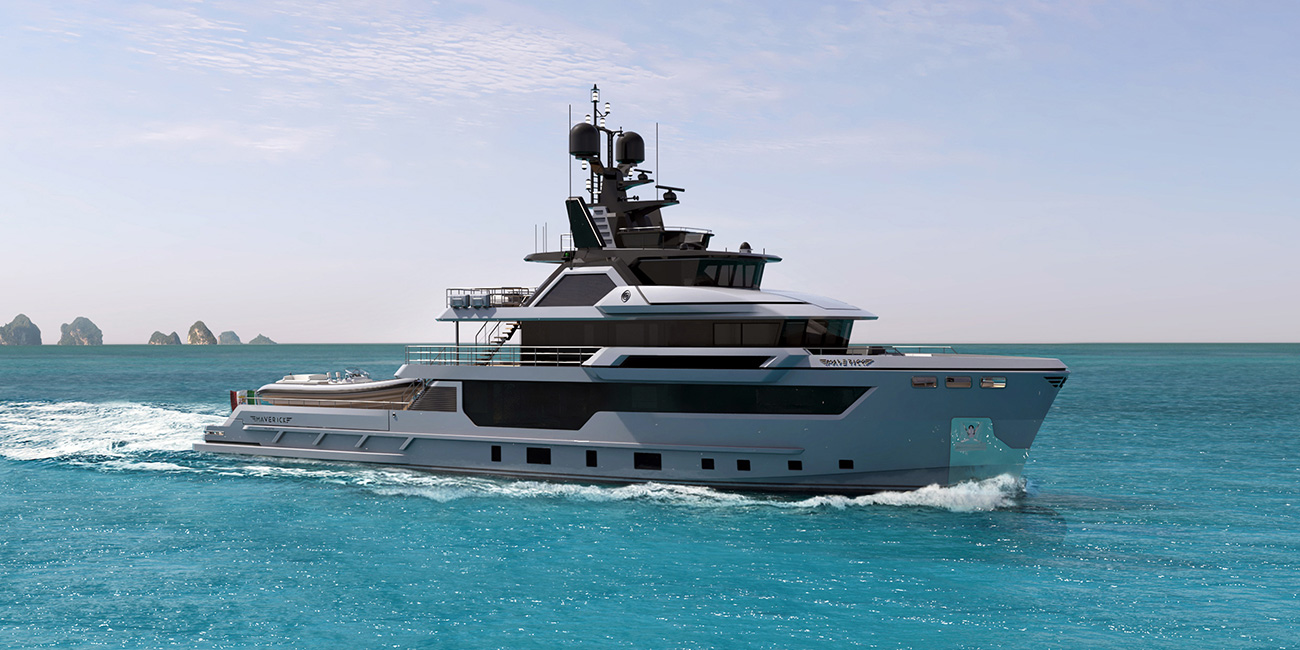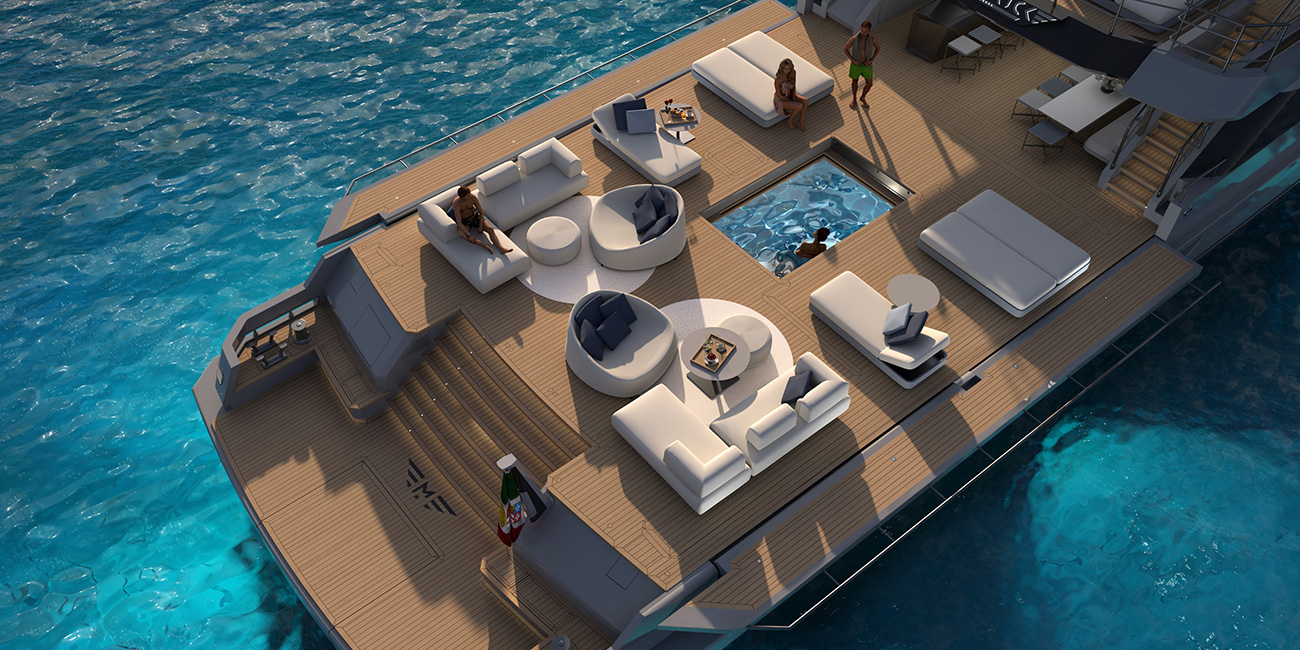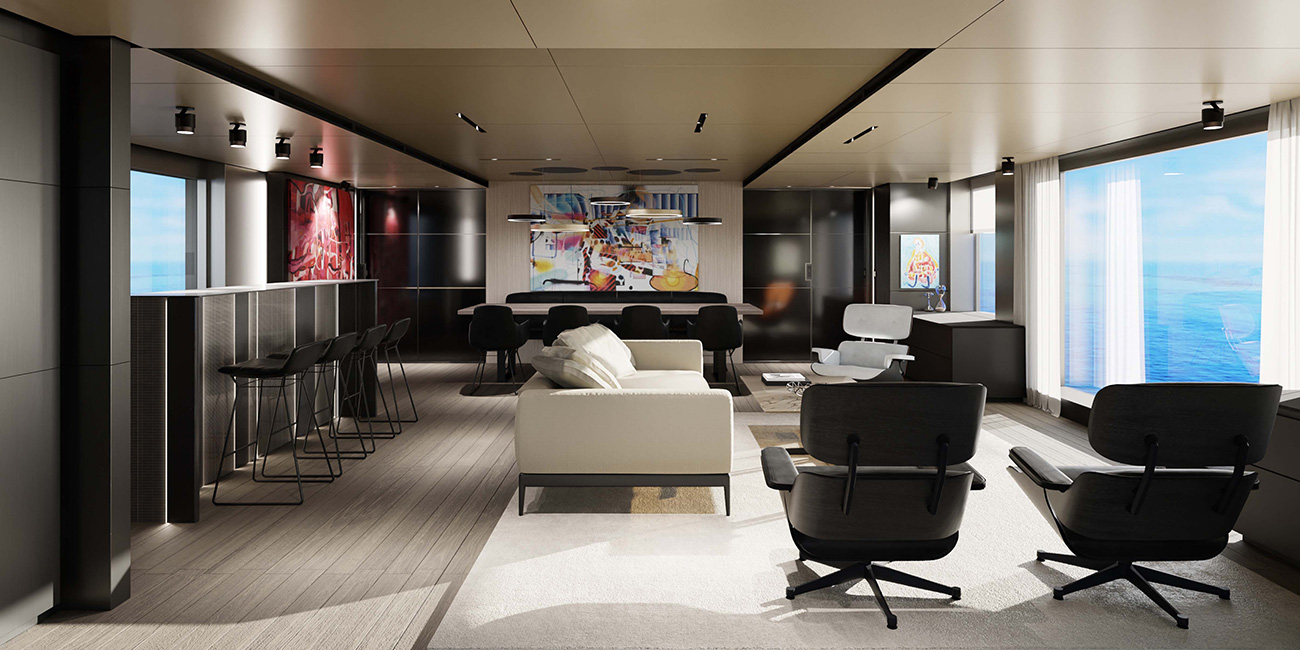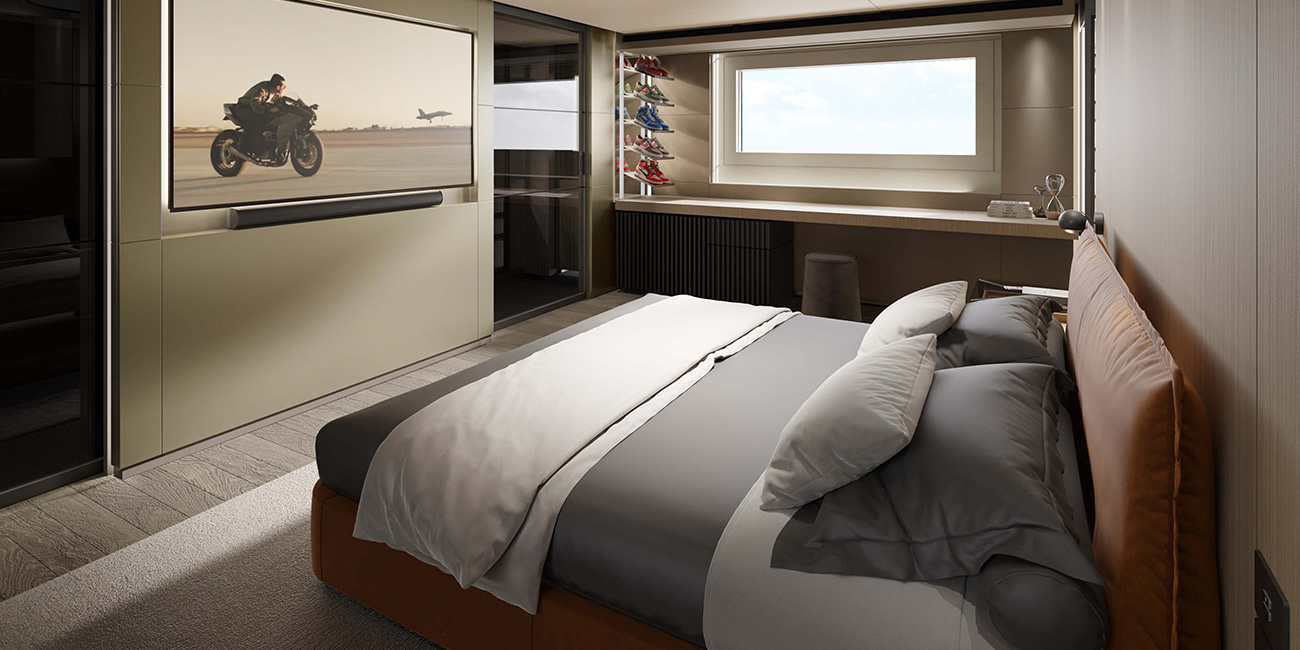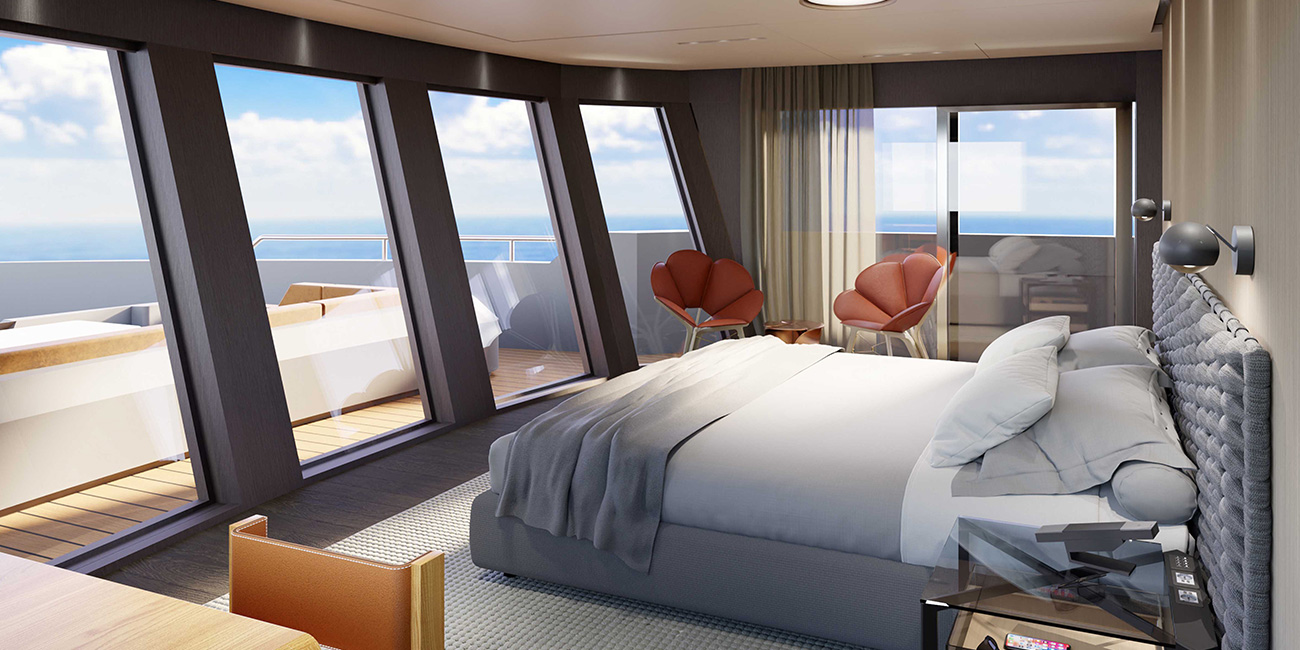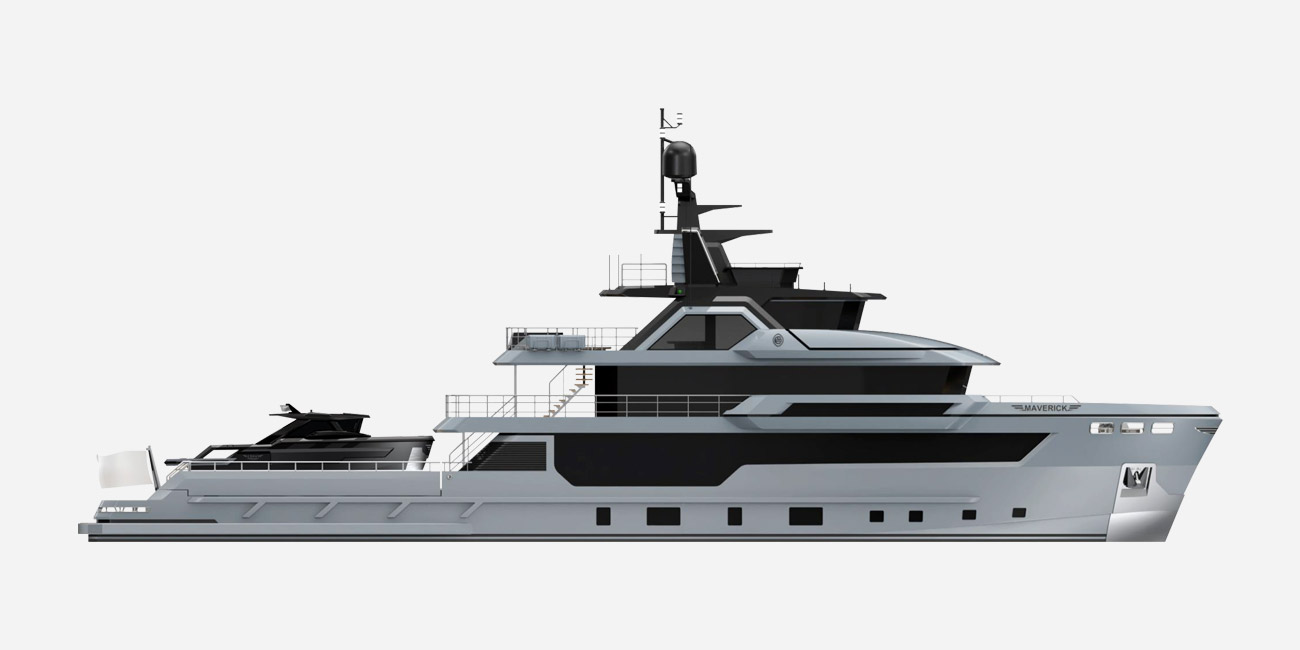 FLEXPLORER 146
M/Y MAVERICK
"Once Maverick is launched in the upcoming months, she will mark a significant milestone for our Shipyard. She showcases the strength of our production. When we introduced the concept of flexible explorer yachts, we anticipated its appeal to Owners seeking an expansive and comprehensive sailing experience. Our Flexplorers exemplify exceptional adaptability to diverse requests. The three Flexplorer 146 currently under construction perfectly show the concept's inherent flexibility, with each unit being significantly distinct from one another. Despite each one being unique in its own way, they all share the same features that enable safe exploration of remote destinations while providing utmost comfort and all the amenities expected of a true luxury yacht." Vasco Buonpensiere,
CEO and Sales & Marketing Director
Maverick, like all Flexplorers, displays a striking exterior design by Hydro Tec, while her elegant interiors are crafted by Francesco Paszkowski in collaboration with Margherita Casprini. The Owners' desires and lifestyle perfectly align with Paszkowski meticulous and poised approach, resulting in a yacht that combines exceptional functionality and aesthetics at the highest level.

The Flexplorer 146 Maverick offers an impressive array of features that set her apart:
Custom-built A-frame crane: this remarkable engineering feat, constructed in carbon fibre by Advanced Mechanical Solutions (AMS), fits flush with the deck after launching the tenders and is strategically positioned at the borders of the huge cockpit. This allows for ample space below deck which houses a large gym, sauna, and diving center. It has a lifting capacity of 4.000 kg.
Collapsible bulwarks: bulwarks extend to the farthest end of the cockpit and can be folded down. Deck fittings are positioned at a lower level on the swim platform, transforming the entire aft deck into a vast beach area spanning over 135 square meters.
A 9.5 metres custom tender designed by Rivellini and built by Cantiere delle Marche, and a A27 sailing boat can be stored and launched using the powerful A-frame crane.
Infinity pool in the transom: the transom features a large infinity pool which can be covered and used as storage for deck furniture while the yacht is underway.
Main salon and dining area: similar to the much-acclaimed Flexplorer 130 Aurelia, Maverick incorporates an asymmetrical layout on the Main deck. This design includes a full beam configuration to the starboard side, expanding the salon area and providing additional square footage. Simultaneously, it creates a practical passageway on the port side providing easy service between the galley and the outdoors.
Open galley: the spacious galley, positioned on the port side, seamlessly connects with the main salon. It features a central island, ideal for gathering with family and friends for breakfast, informal meals, or shared food preparation.
Upper deck amenities: the forward section of the upper deck houses a large open area for a rescue boat and jet skis. When at anchor, this space can be furnished with loose sofas and sunbeds, creating an additional outdoor lounging area.
Guest accommodations: the guest cabins are spread over three decks. The lower deck features four ensuite cabins, while the main deck forward houses one owner's stateroom. Additionally, the upper deck includes another owner's stateroom next to a single guest cabin. The radio room on this deck has been replaced by a large walk-in wardrobe.
Range and speed: powered by twin CATERPILLAR C32 ACERT engines, each generating 970kW, the Flexplorer 146 boasts a fuel capacity of 64 000 litres and a range of well-above 5000nm at economic speed. The maximum speed is 14 knots.
Reinforced hull: among other technical upgrades, Maverick's hull features an ice-belt of 22mm above and below the waterline.
We want to redefine standards
By striving to redefine standards, Cantiere delle Marche demonstrates a commitment to pushing boundaries and consistently improving their work. The Flexplorer 146, in particular, stands as a testament to their dedication to design, construction, and engineering excellence. By going beyond their own limits, Cantiere delle Marche ensures that each new yacht they produce encompasses improvements. This mindset is crucial in an industry where clients seek cutting-edge solutions and top-notch craftmanship and positions Cantiere delle Marche as leaders in the explorer yachts building.
Charting New Paths
Maverick's Owners have exciting plans to fully embrace their new yacht's capabilities. Their initial exploration will encompass various destinations in the Mediterranean. Following this, they intend to embark on a remarkable journey to the Northern latitudes with the ultimate goal of crossing the Northwest Passage. In the past, this passage represented mystery and a challenging endeavor due to its icy conditions. However, in recent decades, the retreat of the ice cover has made it feasible to navigate through the passage for a few weeks during the summer. It is important to note that despite the reduced ice, there remains a risk of encountering ice floes, emphasizing the necessity for a robust hull, which the Flexplorer 146 possesses. The Northwest Passage is just one highlight on their cruising itinerary, as their plans extend far beyond. The owner's schedule has already outlined a world tour that will take Maverick to the most remote corners of the planet. This ambitious plan demonstrates their desire to explore and experience the diverse and breathtaking locations that can be reached with their yacht.
Charting New Paths
› L.O.A. 44.33 m (145ft 5in)
› Beam 8.60 m (28ft 2in)
› Draught 2.70 (8ft 86in)
› Hull/Superstructure Steel/Aluminium
› Fuel capacity 64.000 l (16,896 gal)
› Engines 2xCATERPILLAR C32 ACERT 2x970 kW @1800 rpm
› Stabilizers 2 pairs, electrical, Zero Speed
› Speed max 14 knots
› Range @ 10 knots 5.000nm
› Guest cabins 7
› Crew cabins 3
Download