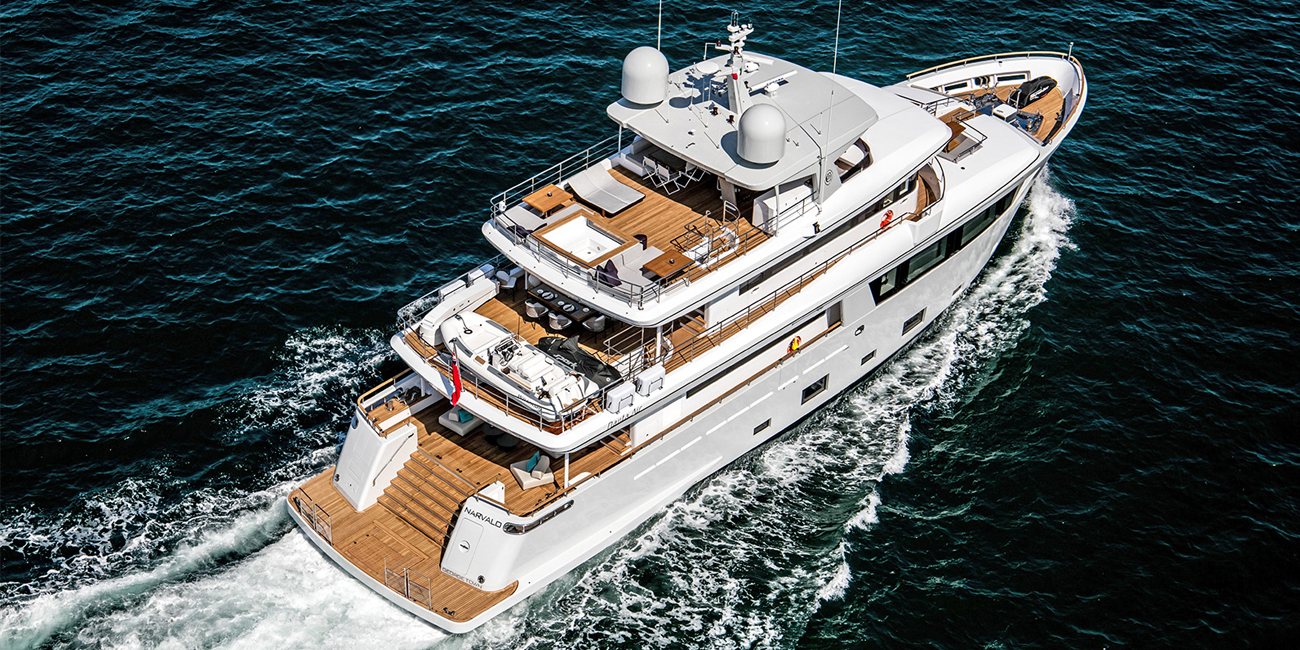 CdM presents
M/Y Narvalo
Nauta Air 108'
Cantiere delle marche presents Nauta Air M/Y Narvalo, exclusive 108 feet flagship yacht built in aluminum and steel. The new Explorer Yacht Nauta Air ready to debut at Cannes Yachting Festival.
It is called Narvalo the new 108 feet Nauta Air Explorer Yacht built in aluminum and steel that Cantiere delle Marche has presented at this Cannes Yachting Festival.

M/Y Narvalo is a three deck displacement explorer yacht, custom-made like all the yachts built at Cantiere delle Marche. The project is by Nauta Design, a celebrated Milan-based studio that also designed the largest private motor yacht in the world and boasts a number of collaborations with some of the world's top shipbuilders.

"Cantiere delle Marche Nauta Air 108' is the flagship of our range of over 30-meter long yachts. When we designed it, we wanted to give shape to the vision of a motor yacht defined by an innovative relationship between interior and exterior space. In our projects for superyachts, our guiding idea is lightness in both meanings of the word: a general absence of weight and a widespread sense of brightness" says Mario Pedol, co-founder of Nauta Design.

Vasco Buonpensiere, Cantiere delle Marche's Sales Director, adds: "Narvalo is the first boat in a new class of Explorer Vessels, featuring a groundbreaking balance among solidity, elegance, volume and design. Building this new boat in the Nauta Air series, we are responding to a very specific market demand with a product whose features are unmatched: an overengineered, long-range three-deck displacement hull yacht featuring about 20% more volume than the competition, with both exterior and interior spaces inspired by the latest trends in Italian boating and industrial design. Once again, Cantiere delle Marche brings its clients beyond traditional yachting and introduces them to a revolutionary world of sense, excitement and unending possibility."

Nauta Design fitted M/Y Narvalo with a wide range of characteristics that maximize on-board comfort during the long cruises the owners of this kind of yacht have in mind. On the upper deck, just behind the wheelhouse, there is a sky lounge only a few square meters smaller than the main saloon. The deck also boasts more than 50 square meters of outdoor spaces, including a dining area and a well for a 5.5m tender that is possibly the best and most accessorized unit ever built by that company. The sun deck is a stunning observatory on the sea, an oasis for entertaining friends and guests equipped with a dedicated area for sunbathing, a whirlpool and a dining and cocktail area for refreshments. Its centerpiece is a strikingly designed bar, a true design statement around which the whole deck revolves.

The lower deck comprises four guest cabins, all of which are of unprecedented size for this class of yachts, and an incredibly spacious lobby that provides guests with the perfect space for relaxing. The crew area features significant storage space and a sublower deck entirely dedicated to provisions, allowing the yacht to remain at sea for weeks without the need to dock to resupply. The owners of this 108' vessel love both a luxurious, elegant lifestyle and the great outdoors: combined with its signature Nauta Air style, the state-of-the art Hydrotec technical specifications of the yacht bridge both worlds, fulfilling the expectations of the most discerning clientele.

Cantiere delle Marche Nauta Air 108' applies the company's know how to a class of vessels over 30 meters long, combining the reliability, safety, skilled construction and powerful seaworthiness of Cantiere delle Marche yachts with Nauta Design's style and design philosophy, summed up in the words: "simplicity is the essence of good design".